Lincoln's Grave Robbers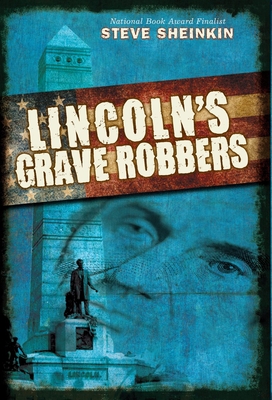 Lincoln's Grave Robbers
Scholastic Press, Hardcover, 9780545405720, 214pp.
Publication Date: January 2013
* Individual store prices may vary.
Buy Now
or
Shop Local
Enter your zip code below to purchase from an indie close to you.
Description
A true crime thriller -- the first book for teens to tell the nearly unknown tale of the brazen attempt to steal Abraham Lincoln's body!

The action begins in October of 1875, as Secret Service agents raid the Fulton, Illinois, workshop of master counterfeiter Ben Boyd. Soon after Boyd is hauled off to prison, members of his counterfeiting ring gather in the back room of a smoky Chicago saloon to discuss how to spring their ringleader. Their plan: grab Lincoln's body from its Springfield tomb, stash it in the sand dunes near Lake Michigan, and demand, as a ransom, the release of Ben Boyd --and $200,000 in cash. From here, the action alternates between the conspirators, the Secret Service agents on their trail, and the undercover agent moving back and forth between the two groups. Along the way readers get glimpses into the inner workings of counterfeiting, grave robbing, detective work, and the early days of the Secret Service. The plot moves toward a wild climax as robbers and lawmen converge at Lincoln's tomb on election night: November 7, 1876.
About the Author
Steve Sheinkin is the writer and illustrator of "The Adventures of Rabbi Harvey: A Graphic Novel of Jewish Wisdom and Wit in the Wild West, " for which he won "Moment Magazine's" Emerging Writer Award in children's literature; "Rabbi Harvey Rides Again: A Graphic Novel of Jewish Folktales Let Loose in the Wild West" and "Rabbi Harvey vs. the Wisdom Kid: A Graphic Novel of Dueling Jewish Folktales in the Wild West".
Steve Sheinkin is available to speak on the following topics: Drawing ComicsGraphic NovelsJewish FolktalesJewish Wisdom
Praise For Lincoln's Grave Robbers…
This meticulous and tremendously suspenseful account of the attempted heist of Abraham Lincoln's body in 1876 reads like a smartly cast fictional crime thriller, with a skillful buildup of tension and sharp character portrayals. Sheinkin (Bomb) lays the groundwork for the plot by delving into the history of counterfeiting, a booming business during and after the Civil War ("By 1864, an astounding 50 percent of the paper money in circulation was fake"). James Kennally, leader of one of the largest counterfeiting rings in the Midwest, masterminded the plot to steal the late president's body from the Lincoln Monument, outside Springfield, Ill. His intent was to ransom the purloined corpse, hitting up the government for a tidy sum of money and the freedom of his jailed, top-notch engraver. Perhaps the most dynamic player is Lewis Swegles, a shrewd career criminal who juggled double roles as Secret Service informer and alleged conspirator. Sheinkin's study of Swegles's thought process and machinations intensifies the drama of the final showdown between the would-be robbers and government officials. A sizzling tale of real-life historical intrigue.
- Publishers Weekly starred review