Pip Bartlett's Guide to Magical Creatures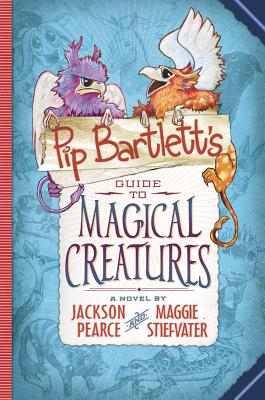 Pip Bartlett's Guide to Magical Creatures
Scholastic Press, Hardcover, 9780545709262, 192pp.
Publication Date: April 28, 2015
* Individual store prices may vary.
Buy at Local Store
Enter your zip code below to purchase from an indie close to you.
or
Buy Here
Description
From bestselling authors Maggie Stiefvater and Jackson Pearce comes an exciting new series full of magical creatures, whimsical adventures, and quirky illustrations.
Here's a list of things Pip Bartlett can talk to:
Unicorns
Miniature Silky Griffins
Bitterflunks
Basically, all magical creatures
Here's a list of things she can t talk to (at least, not very well):
Parents
Teachers
Basically, all people
Because of a Unicorn Incident at her school (it was an accident ), Pip is spending the summer with her Aunt Emma at the Cloverton Clinic for Magical Creatures. At first, it's all fun, games, and chatting with Hobgrackles, but when Fuzzles appear and start bursting into flame at the worst possible places, Pip and her new friend Tomas must take action. Because if the mystery of the Fuzzles isn t solved soon, both magical and unmagical creatures are going to be in a lot of trouble.
About the Author
After a tumultuous past as a history major, calligraphy instructor, wedding musician, technical editor, and equestrian artist, Maggie Stiefvater is now a full-time writer and New York Times bestselling author of the Shiver trilogy, The Scorpio Races, and The Raven Boys. Her debut series, the Books of Faerie, is published by Flux. Maggie lives in the middle of nowhere, Virginia, with her charmingly straight-laced husband, two kids, four neurotic dogs, and a 1973 Camaro named Loki.
Follow her on Twitter at @mstiefvater, and visit her online at www.maggiestiefvater.com.
If Jackson Pearce had three wishes, she would wish for wisdom, patience, and for life to be a little more like a musical. She began writing when the school librarian told her there weren't any books that contained a smart girl, horses, baby animals, and magic. Her solution was to write the book herself. Jackson currently lives in Atlanta, Georgia, with a slightly cross-eyed cat and a lot of secondhand furniture.