The Bluebird Effect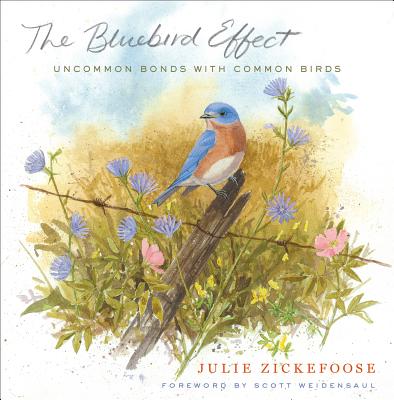 The Bluebird Effect
Uncommon Bonds with Common Birds
Houghton Mifflin, Hardcover, 9780547003092, 355pp.
Publication Date: March 20, 2012
* Individual store prices may vary.
Buy Now
or
Shop Local
Enter your zip code below to purchase from an indie close to you.
Description
Julie Zickefoose lives for the moment when a wild, free living bird that she has raised or rehabilitated comes back to visit her; their eyes meet and they share a spark of understanding. Her reward for the grueling work of rescuing birds such as feeding baby hummingbirds every twenty minutes all day long is her empathy with them and the satisfaction of knowing the world is a birdier and more beautiful place.
"The Bluebird Effect" is about the change that's set in motion by one single act, such as saving an injured bluebird or a hummingbird, swift, or phoebe. Each of the twenty five chapters covers a different species, and many depict an individual bird, each with its own personality, habits, and quirks. And each chapter is illustrated with Zickefoose's stunning watercolor paintings and drawings. Not just individual tales about the trials and triumphs of raising birds, "The Bluebird Effect" mixes humor, natural history, and memoir to give readers an intimate story of a life lived among wild birds.

About the Author
JULIE ZICKEFOOSE began illustrating natural history subjects as a college freshman in 1976.Since then, her writing has been featured in Bird Watcher's Digest, on NPR's All Things Considered, and in her book of illustrated essays Lettersfrom Eden. She lives in Ohio.
Praise For The Bluebird Effect…
"Birders will appreciate her meticulous observations and devotion to the avian world, but anyone who's ever considered hanging a birdfeeder is likely to be mesmerized by the sensuous, precise prose as well as Zickefoose's vivid portraits of scrawny, fluffy phoebe chicks, a self-possessed hummingbird perched on a clothesline, dwarfed by the surrounding clothespins, and orioles migrating by moonlight. Readers will be astounded by the drama and intelligence fluttering in their backyards." - Publishers Weekly
"Beguiling stories from a naturalist's life with backyard birds....Describing her songbirds with a delicacy of words and brush strokes, Zickefoose makes learning about birds seem like the adventure of a lifetime. A wonderful treat for birders." - Kirkus