Henry's Night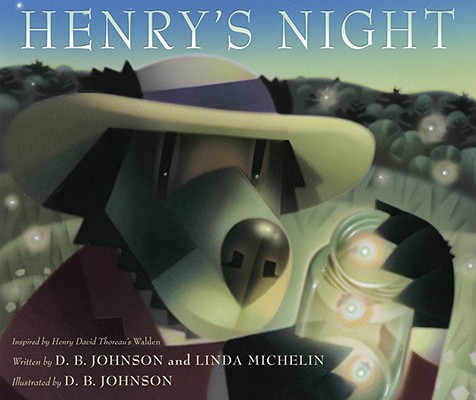 Henry's Night
Houghton Mifflin Harcourt (HMH), Hardcover, 9780547056630, 32pp.
Publication Date: April 1, 2009
* Individual store prices may vary.
Buy at Local Store
Enter your zip code below to purchase from an indie close to you.
or
Not Currently Available for Direct Purchase
Description
Henry cannot sleep. The sounds of the village keep him awake. If only he could find the whippoorwill, the night bird no one sees, and hear its sweet song! Henry takes his night jar, fills it with fireflies, and sets off with the lantern to track his elusive serenader. But each time he draws near, the bird stops singing and flies deeper into the woods. Henry encounters many wonderful creatures there, but will he ever find his night bird? And where will the whippoorwill ultimately lead him?

In this fifth book of the Henry series, D. B. Johnson recreates the wonder of Henry David Thoreau's moonlit walks, and shines a quiet comfort into the mysterious night woods.
Praise For Henry's Night…
"From Henry Hikes to Fitchburg (2000) on, Johnson has surpassed all conventional biographers in presenting Thoreau's philosophy and spirit in ways that will make sense to younger readers. Here, in the series's fifth outing, he and co-author Michelin wax a bit more poetic and oblique, pairing a present-tense, free-verse journal entry to atmospherically dim scenes of the narrator (or rather, his ursine stand-in) walking, and later floating, through clouds of fireflies and cubist glimmers of rain and moonlight. Unable to sleep one birthday evening, Thoreau slips out of his bedroom and into the branches of a beech tree in hopes of finding an elusive whippoorwill. His search continues into the woods and then onto a clouded lake (White fog spreads wide / it rolls from edge to edge / of all I see. / How will I get home? / I make a raft of branches") where the night bird comes to him, perching on his head and, later, as morning brightens, singing him to sleep. A great bedtime read, as mysterious and thought-provoking as a zen koan."--Kirkus, starred review "Johnson and Michelin (Zuzu's Wishing Cake) collaborate on this ethereal addition to Johnson's Henry series, based on Thoreau's writing . . . Henry's observations appear on gray-green paper scraps, superimposed on luminous images of moonlit fields and woodlands. Although Henry is alone, Johnson's blurred picturesin fuzzy-edged shades of lichen, periwinkle and purpleconvey lush silence without menace."--Publishers Weekly "Guided by his jar of fireflieswhich sparkles in beautiful white lightHenry discovers many plants and animals, jotting sketches and diagrams in the margins of the journal pages positioned on each two-page spread . . . the lulling text makes this ideal material for bedtime stragglers."--Booklist "The nocturnal hues, luminous highlights, and gently skewed perspectives of Johnson's mixed-media illustrations are a fine balance to the smaller, realistic line drawings in the diary entries tucked on the side of each spread. Rich in sounds and sensory details, the book will make youngsters feel as though they have shared this moonlight walk with Thoreau himself."--School Library Journal