The Children of Hurin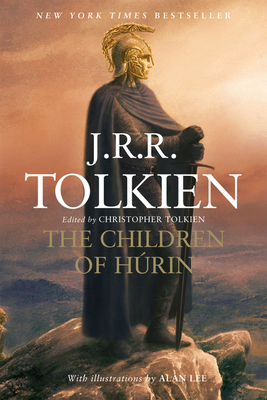 The Children of Hurin
Houghton Mifflin, Paperback, 9780547086057, 313pp.
Publication Date: October 14, 2008
* Individual store prices may vary.
Shop Local
Enter your zip code below to find indies closest to you.
Description
The Children of Húrin is the first complete book by J.R.R.Tolkien since the 1977 publication of The Silmarillion. Six thousand years before the One Ring is destroyed, Middle-earth lies under the shadow of the Dark Lord Morgoth. The greatest warriors among elves and men have perished, and all is in darkness and despair. But a deadly new leader rises, Túrin, son of Húrin, and with his grim band of outlaws begins to turn the tide in the war for Middle-earth -- awaiting the day he confronts his destiny and the deadly curse laid upon him.

The paperback edition of The Children of Húrin includes eight color paintings by Alan Lee and a black-and-white map.
About the Author
J. R. R. Tolkien (1892 1973), beloved throughout the world as the creator of "The Hobbit", "The Lord of the Rings", and other tales of Middle-earth, was a professor of Anglo-Saxon at Oxford, a fellow of Pembroke College, and a fellow of Merton College until his retirement in 1959. His chief interest was the linguistic aspects of the early English written tradition, but even as he studied these classics he was creating a set of his own. His books have been translated into more than fifty languages and have sold many millions of copies worldwide.

Christopher Tolkien, born on 21st November 1924, is the third son of J.R.R. Tolkien. Appointed by Tolkien to be his literary executor, he has devoted himself since his father's death in 1973 to the editing and publication of unpublished writings, notably The Silmarillion and the collections entitled Unfinished Tales and The History of Middle-earth. Since 1975 he has lived in France with his wife Baillie.

Alan Lee was born in England in 1947. Inspired by Tolkien's work to pursue his chosen path as an artist of the mythic and fantastic, he has illustrated a wide range of books including Faeries, The Mabinogion, Castles, Merlin Dreams, the centenary edition of The Lord of the Rings, and The Hobbit. He is a winner of the Carnegie Medal for his illustrated edition of The Illiad.