Ghost Town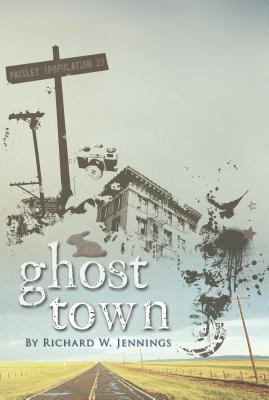 Ghost Town
Houghton Mifflin Harcourt (HMH), Hardcover, 9780547194714, 167pp.
Publication Date: June 2009
* Individual store prices may vary.
Shop Local
Enter your zip code below to find indies closest to you.
Description
Spencer Adams Honesty may be the last best hope for Paisley, Kansasand for lonely kids everywhere.

Spencer Honesty and his mom are the last people left in Paisley, except for Chief Leopard Frog, Spence's imaginary friend. One lonely day, Chief Leopard Frog's carved rabbit talisman tells Spence to take his photo, so Spence digs up his late father's camera and starts shooting photographs all around his ghost town. When the photos come back developed, he does not expect to see his old neighbor Maureen Balderson in her bedroom. Or Ma Puttering clearing weeds in her yard. They aren't in Paisley anymore. Yet there they are.
What happens to Spence next is unexpected. It involves a catalog called Uncle Milton's Thousand Things You Thought You'd Never Find, a poetry deal gone awry, and a ghost camera that promises to take pictures of the past (just be sure not to photograph yourself).
About the Author
Richard W. Jennings has published more than fifty essays, articles, and short stories, including The Tragic Tale of the Dog Who Killed Himself, published by Bantam Books in 1980 to widespread critical acclaim, in addition to his recent titles published with Houghton Mifflin -- Orwell's Luck, The Great Whale of Kansas, My Life of Crime, and Scribble. He is cofounder of a popular Kansas City-area bookstore and former editor of KANSAS CITY MAGAZINE. He has five children, four grandchildren, a dog, a cat, and a parrot and lives in Kansas.
Praise For Ghost Town…
"Offbeat, quirky, peculiar, unusual . . . For readers who enjoy Jennings's work, Spencer's adventures will be a welcome addition."--Kirkus Reviews

"Smartly driven along by a sense that just about anything can happen next, the story takes several severe twists from there, culminating in a rush of prizes and huge royalty checks for both the photos and for the wildly popular poems that Chief Leopard Frog writes. Fans of Gary Paulsen's Lawn Boy (2007) will find this similarly epic rocket to fame and fortune equally stimulating."--Booklist

"It's a delicious premise—a ghost town coming back to life in dreams and photographs—developed with an accretion of humorous situations and details: a disappearing toe, a pumpkin that looks like Oprah Winfrey, and a poetry-writing imaginary friend named Chief Leopard Frog who whittles bad-luck talismans. And when the Chief's poetry and Spencer's ghost camera bring in unexpected wealth, the fortunes of Paisley, Kansas, revive. Readers who can suspend disbelief and appreciate the quirkiness will enjoy Jennings's story of a ghost town's unlikely savior."--The Horn Book Magazine

"Paisley, with its numerous spiders, reptiles and vacated buildings, emerges as just as vivid a character as Spencer . . . Spencer's frequent musings on solitude, art and life are thought provoking and often funny . . . it's a fun ride."--Publishers Weekly

"There is adventure and romance, fun and action. Jennings has a talent for humor, and middle school boys and girls will smile as they read his latest effort."--VOYA, (4Q4P)