Beautiful Boy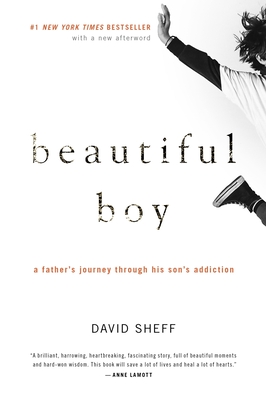 Beautiful Boy
A Father's Journey Through His Son's Addiction
Mariner Books, Paperback, 9780547203881, 340pp.
Publication Date: January 1, 2009
* Individual store prices may vary.
Buy at Local Store
Enter your zip code below to purchase from an indie close to you.
or
Buy Here
Description
What had happened to my beautiful boy? To our family? What did I do wrong? Those are the wrenching questions that haunted every moment of David Sheff's journey through his son Nic's addiction to drugs and tentative steps toward recovery. Before Nic Sheff became addicted to crystal meth, he was a charming boy, joyous and funny, a varsity athlete and honor student adored by his two younger siblings. After meth, he was a trembling wraith who lied, stole, and lived on the streets. David Sheff traces the first subtle warning signs: the denial, the 3 A.M. phone calls (is it Nic? the police? the hospital?), the rehabs. His preoccupation with Nic became an addiction in itself, and the obsessive worry and stress took a tremendous toll. But as a journalist, he instinctively researched every avenue of treatment that might save his son and refused to give up on Nic.
Beautiful Boy is a fiercely candid memoir that brings immediacy to the emotional rollercoaster of loving a child who seems beyond help.

About the Author
There is a new revolution in China, one which intends to unite the people of this vast and populous nation as never before; both highways, roadways and the information superhighway, are being constructed simultaneously, leapfrogging a rural economy into the modern-day information age. "In China, I feel the explosive combination of forces aligning to create the kind of change that alters the course of history," writes David Sheff in the introduction to China Dawn, his latest book. About the entrepreneurs who are trying to spark a social transformation by bringing the latest information technology to the planet's most populous country, China Dawn, researched over three years, is the chronicle of the nascent Chinese technology revolution -- a movement with, Sheff says, "the immodest goal of transforming the life of more than a fifth of the world's people."
David Sheff's articles and interviews have appeared in Playboy, The New York Times Magazine, Rolling Stone, Wired, Outside, Forbes ASAP, The Los Angeles Times Magazine, Esquire and Observer Magazine in England, Foreign Literature in Russia and Playboy (Shueisha) in Japan. He is currently on assignment for Fortune and Vanity Fair. His book, Game Over, was published by Random House in the United States and Hodder and Stoughton in Great Britain as well as in Japan, Germany, France, Italy, Brazil, Israel, and other countries. Vintage published the paperback edition in 1993. The book, reissued in 1999 with a new introduction, was universally praised by reviewers for Time, Newsweek, Fortune, Forbes, USA Today, The New York Review of Books, and hundreds of domestic and international magazines and newspapers. The New York Times called it "beguiling" and "irresistible. . . almost as hypnotic as a successful video game." The Houston Chronicle said, "This book is a must-read. Game Over is about as readable as a business book can be." The Chicago Tribune called it "A cross between Barbarians at the Gate and The Soul of the New Machine."
The Playboy Interviews with John Lennon and Yoko Ono, conducted in 1980, became a Literary Guild Selection book. Other interviews, including those with Ansel Adams, nuclear physicist Ted Taylor, Gore Vidal, Steve Jobs, Tom Hanks, Sting, Scott Peck, Betty Friedan, and Keith Haring, received wide recognition, as did his "Portrait of a Generation" in Rolling Stone. His radio documentaries for National Public Radio on John Steinbeck's The Grapes of Wrath and Harper Lee's To Kill a Mockingbird won several awards. He also wrote and edited "Heart Play: Unfinished Dialogue," which won a Grammy Award nomination for Best Spoken Word Recording of 1984.
Sheff is currently a contributing editor of Playboy, Wired, and Yahoo! Internet Life and is on assignment for Fortune and Vanity Fair. He was formerly an editor of New West and California magazines..
He attended the University of California at Berkeley, where he received a degree in social science. He lives in San Francisco, California with his wife and three children.
Praise For Beautiful Boy…
"An honest, hopeful book, coming at a propitious moment in the meth epidemic." Publishers Weekly

"An excellent book that all parents can relate to whatever their children's situation." Library Journal Starred

"Those of us who love an addict — or are addicts ourselves — will find BEAUTIFUL BOY a revelation." — Martin Sheen, actor

"A welcome balm to millions…who thought they were making this journey alone."— Armistead Maupin, author of The Night Listener

"This book is going to save a lot of lives, and help heal…hearts." — Anne Lamott, author of Grace (Eventually)

"…moving, timely, and sobering. It's also startlingly beautiful." - Sir Richard Branson, chairman, Virgin Group

"An extraordinary story of pain, perseverance and hope." — William C. Moyers, author of Broken

"…honest, reflective and deeply moving. BEAUTIFUL BOY is about: truth and healing." — Mary Pipher, author of Reviving Ophelia

"For…any one who has ever wrestled with holding on and letting go." — Thomas Lynch, author of The Undertaking

"A masterpiece of description and feeling…immediate, informative and heartbreaking." — Susan Cheever, author of Note Found in a Bottle