The Boneshaker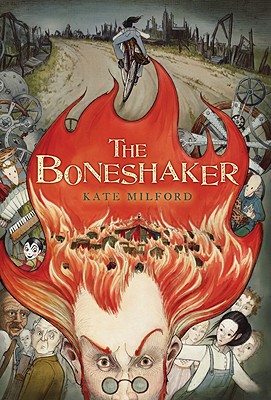 The Boneshaker
Clarion Books, Hardcover, 9780547241876, 384pp.
Publication Date: May 1, 2010
* Individual store prices may vary.
Buy at Local Store
Enter your zip code below to purchase from an indie close to you.
or
Not Currently Available for Direct Purchase
Description
Thirteen-year-old Natalie Minks loves machines, particularly automata--self-operating mechanical devices, usually powered by clockwork. When Jake Limberleg and his traveling medicine show arrive in her small Missouri town with a mysterious vehicle under a tarp and an uncanny ability to make Natalie's half-built automaton move, she feels in her gut that something about this caravan of healers is a bit off. Her uneasiness leads her to investigate the intricate maze of the medicine show, where she discovers a horrible truth and realizes that only she has the power to set things right.
Set in 1914, The Boneshaker is a gripping, richly textured novel about family, community, courage, and looking evil directly in the face in order to conquer it.
Praise For The Boneshaker…
A 2011 ALA Best Fiction for Young Adults Book


"Not to be confused with Cherie Priest's steampunk novel of the same name (though there is just the barest whiff of steampunk here), this historical fantasy uses the classic devil-at-the-crossroads motif as the foundation for an elaborate and intricate gearwork story set in the little town of Arcane, Missouri, in 1913...Both impressive and ambitious, Milford's first novel rarely overreaches as it lays out an eerie and atmospheric vision of early-twentieth-century Americana, electrified by supernatural traces and a generously complex look at good, evil, and the wide swath in between."—Booklist, starred review


"The tale is shrouded in mystery and explores themes of gaining confidence and recognizing evil, and Milford's detail-rich prose makes it all the more haunting ("In the gaslight and what morning sun that filtered through the heavy curtains, startling shapes began to resolve themselves into familiar objects. Seeing them clearly didn't make her like them any better")."—Publishers Weekly

"This unusual story, with elements of folklore, tall tales and steampunk, has rich details of small-town America in the early 20th century as well as the impact of budding technology. Natalie is a well-drawn protagonist with sturdy supporting characters around her. The tension built into the solidly constructed plot is complemented by themes that explore the literal and metaphorical role of crossroads and that thin line between good and evil."—Kirkus Reviews