Hunger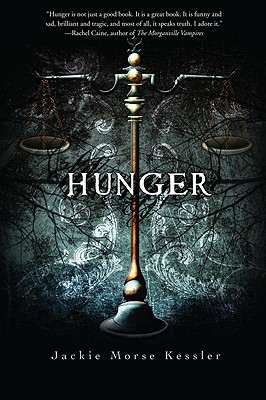 Hunger
Graphia Books, Paperback, 9780547341248, 177pp.
Publication Date: October 18, 2010
* Individual store prices may vary.
Buy Now
or
Shop Local
Enter your zip code below to purchase from an indie close to you.
Description
""Thou art the Black Rider. Go thee out unto the world." "
Lisabeth Lewis has a black steed, a set of scales, and a new job: she's been appointed Famine. How will an anorexic seventeen-year-old girl from the suburbs fare as one of the Four Horsemen of the Apocalypse? Traveling the world on her steed gives Lisa freedom from her troubles at home her constant battle with hunger, and her struggle to hide it from the people who care about her. But being Famine forces her to go places where hunger is a painful part of everyday life, and to face the horrifying effects of her phenomenal power. Can Lisa find a way to harness that power and the courage to fight her own inner demons? A wildly original approach to the issue of eating disorders, Hunger is about the struggle to find balance in a world of extremes, and uses fantastic tropes to explore a difficult topic that touches the lives of many teens.
About the Author
Jackie Morse Kessler is the author ofthe the Riders of the Apocalypse quartet for teen readers, along with several paranormal and dark fantasy books for adults. She lives in upstate New York. Visit her website at www.jackiemorsekessler.com.
Praise For Hunger…
An ALA Quick Pick for Reluctant Young Adult Readers
"The storytelling is both realistic and compassionate....the writing is never preachy, and it allows an interesting exploration of both intensely personal food issues and global ones."—
School Library Journal, starred review

"[The author's] ear for dialogue, fluid prose and dark humor elevate this brief novel above other 'issue books.'"—
Kirkus Reviews
"Powerful, fast-paced, hilarious, heart-wrenching, vivid, sad and most of all real, Hunger is a breathtaking portrayal of a difficult topic that also deftly ties in with the interesting and scary apocalypse. Though short, this story will grab the reader and never let go." —
Romantic Times Magazine
"Kessler offers a refreshingly new approach to the YA eating-disorder genre that reinforces the difficulty of conquering these diseases."—
Booklist
"Jackie Morse Kessler does a fine job of taking a critical issue that has been explored in writing no small number of times, and putting a new and thought provoking spin on it. It was sheer genius to combine the eating disorder anorexia with the ultimate entity signifying lack of food, nourishment and all that that entails: famine."—
New York Journal of Books
"Fast-paced, witty, and heart-breaking! Jackie Morse Kessler is one of the most talented authors I know."—Richelle Mead, author of
Vampire Academy
"Hunger is not just a good book. It is a great book. It is funny and sad, brilliant and tragic, and most of all, it speaks truth. I've always admired Jackie Kessler's writing.  Now I adore it."—Rachel Caine, author of The Morganville Vampires

"Jackie Morse Kessler hits it out of the park with Hunger. Although this is a book with anorexia at its heart, there are no hidden lectures or story-slowing asides. Instead, Kessler deftly weaves the heroine Lisa's struggle with food into a beautifully realized mythology, complete with a wisecracking and sexy Death and a new spin on the Four Horsemen of the Apocalypse. An absolute must-read!"—Julie Kenner, author of Good Ghouls Do
"A fantastic and gripping read that never shies from its difficult subject matter, Kessler illuminates, through the Horsemen of the Apocalypse, a very real problem facing teens today. While Lisabeth Lewis explores her self-induced hunger and attempts to battle the Thin voice, her incarnation as Famine explores the horrors and causes of world hunger. The contrast slots Hunger into its own category of awesome. This book is a knockout."—A.S. King, author of The Dust of 100 Dogs