The Things They Carried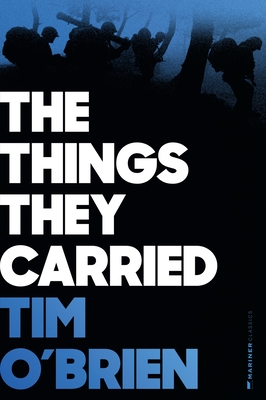 The Things They Carried
Houghton Mifflin, Hardcover, 9780547391175, 233pp.
Publication Date: March 22, 2010
* Individual store prices may vary.
Buy at Local Store
Enter your zip code below to purchase from an indie close to you.
or
Buy Here
Description
A classic, life-changing meditation on war, memory, imagination, and the redemptive power of storytelling, with more than two-million copies in print
Depicting the men of Alpha Company--Jimmy Cross, Henry Dobbins, Rat Kiley, Mitchell Sanders, Norman Bowker, Kiowa, and the character Tim O'Brien, who survived his tour in Vietnam to become a father and writer at the age of forty-three--the stories in The Things They Carried opened our eyes to the nature of war in a way we will never forget. It is taught everywhere, from high school classrooms to graduate seminars in creative writing, and in the decades since its publication it has never failed to challenge our perceptions of fact and fiction, war and peace, and courage, longing, and fear.
About the Author
Tim O'Brien received the 1979 National Book Award in fiction for Going After Cacciato. Among his other books are the acclaimed novels In the Lake of the Woods, Tomcat in Love, If I Die in a Combat Zone, and July, July. In the Lake of the Woods received the James Fenimore Cooper Prize from the Society of American Historians and was named Time magazine's best novel of the year.
Monday, May 31, 2010
Novelist Tim O'Brien served in Vietnam as an infantryman in 1968. He wrote about the war in several novels, including Going After Cacciato and If I Die in a Combat Zone. He spoke with Terry Gross in 1990 about his classic book of short war stories, The Things They Carried. More at NPR.org
Wednesday, Mar 24, 2010
In war, there are no winners. That's what readers take away from Tim O'Brien's book about the Vietnam War, The Things They Carried, in the 20 years since its publication. O'Brien shares what he carries from his time in Vietnam. More at NPR.org