Dying to Meet You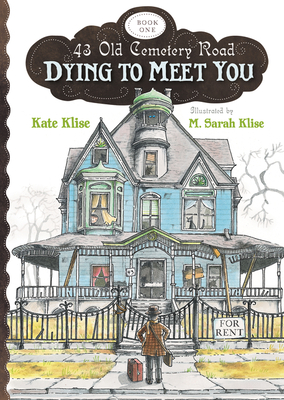 Dying to Meet You
Houghton Mifflin, Paperback, 9780547398488, 147pp.
Publication Date: August 1, 2010
* Individual store prices may vary.
Buy at Local Store
Enter your zip code below to purchase from an indie close to you.
or
Buy Here
Description
Ignatius B. Grumply moves into the Victorian mansion at 43 Old Cemetery Road hoping to find some peace and quiet so he can crack a wicked case of writer's block. But 43 Old Cemetery Road is already occupied by eleven-year-old Seymour, his cat Shadow, and an irritable ghost named Olive. It's hard to say who is more outraged. But a grumpy old ghost just might inspire this grumpy old man--and the abandoned kid? Well, let's just say his last name's Hope.
Sisters Kate and M. Sarah Klise, the creators of the award-winning Regarding the . . . series, offer up this volume in a clever epistolary series told in letters, drawings, newspaper articles, a work-in-progress manuscript, and even an occasional tombstone engraving.
About the Author
KATE KLISE and M. SARAH KLISE have collaborated on several picture books and a number of popular middle grade novels, including "Trial by Journal" and "Letters from Camp, "an ALA Best Book for Young Adults. Kate, who is a correspondent for "People" magazine, lives in Norwood, Missouri. Sarah, who is an art teacher, lives in Berkeley, California.www.kateandsarahklise.com
Praise For Dying to Meet You…
"Kate Klise fleshes out the plot with back stories on the house, Seymour's catastrophic, absent parents and Olive's haunting of the house. Suspense intrudes when Seymour's parents reappear and decide to demolish it. Everywhere they look, readers will find comedy, even in the headers on the letters and character names. Of course it's all going to come out magnificently in the end, thereby setting up the next book in the planned series. A quirky, comedic romp."--Kirkus
"This epistolary graphic mystery may take genre-bending into the realm of genre-pretzeling, but it still delivers an unlikely story with a great deal of likability."--
Booklist
 "The fun here is in the narrative equipmentletters, e-mails, newspaper extracts, floor plan, cast list, etc., and in the embedded jokes, such as Cliff Hanger (the editor of The Ghastly Times) and Frank N. Beans (the private investigator) . . . young mock-gothic fans will nonetheless be eager to revisit 43 Old Cemetery Road in the anticipated sequels."--
Horn Book
 "This first title in a new series will appeal to readers, especially reluctant ones, as it moves quickly and leaves its audience eager for book two, which is announced in this ghastly and fun tale."--
School Library Journal
 "This fresh, funny launch of the 43 Old Cemetery Road series introduces an eccentric cast with pun-tastic names . . . the story is light enough for more tentative readers, with many humorous details to reward those who look closer."--
Publishers Weekly
 ". . . a frothy little confection, whose enjoyability comes as much, if not more, from the format and side jokes . . . as from the main plot.  The story is a pleasant example of the supernatural sitcom . . . an engaging and easy-going read.  Illustrations, mostly vigorous line portraits drawn by Seymour,' add additional invitation to the accessible pages."--
The Bulletin