Games Wizards Play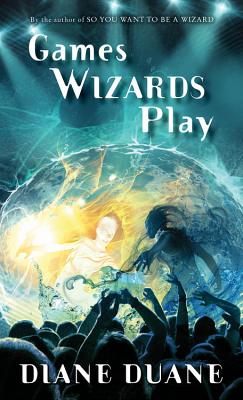 Games Wizards Play
Hmh Books for Young Readers, Hardcover, 9780547418063, 640pp.
Publication Date: February 2, 2016
* Individual store prices may vary.
Buy Now
or
Shop Local
Enter your zip code below to purchase from an indie close to you.
Description
Every eleven years, Earth's senior wizards hold the Invitational: an intensive three-week event where the planet's newest, sharpest young wizards show off their best and hottest spells. Wizardly partners Kit Rodriguez and Nita Callahan, and Nita's sister, former wizard-prodigy Dairine Callahan, are drafted in to mentor two brilliant and difficult cases: for Nita and Kit, there's Penn Shao-Feng, a would-be sun technician with a dangerous new take on managing solar weather; and for Dairine, there's shy young Mehrnaz Farrahi, an Iranian wizard-girl trying to specialize in defusing earthquakes while struggling with a toxic extended wizardly family that demands she perform to their expectations. Together they're plunged into a whirlwind of cutthroat competition and ruthless judging. Penn's egotistical attitude toward his mentors complicates matters as the pair tries to negotiate their burgeoning romance. Meanwhile, Dairine struggles to stabilize her hero-worshipping, insecure protegee against the interference of powerful relatives using her to further their own tangled agendas. When both candidates make it through to the finals stage on the dark side of the Moon, they and their mentors are flung into a final conflict that could change the solar system for the better . . . or damage Earth beyond even wizardly repair.
About the Author
DIANE DUANE is the author of nearly fifty science fiction and fantasy novels, includingten books inthe Young Wizards series. Four of her "Star Trek" novels have been "New York Times" bestsellers, including "Spock's World".She lives with her husband in rural Ireland. Visit her online at www.DianeDuane.comand www.youngwizards.com.