The Maid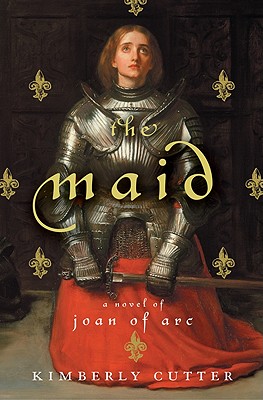 The Maid
Houghton Mifflin Harcourt (HMH), Hardcover, 9780547427522, 287pp.
Publication Date: October 18, 2011
* Individual store prices may vary.
Buy at Local Store
Enter your zip code below to purchase from an indie close to you.
or
Not Currently Available for Direct Purchase
Description
Behind the girl rides her army of ten thousand warriors, all of them united by the same strange and feverish joy as they crash across the winter fields, through the white land and toward the shadowed stillness of the pines. She is seventeen, a peasant, unschooled, simple as a thumb. But on this morning, she is simply God's arrow, shot across the winterland, brilliant and savage and divine. Unstoppable.
It is the fifteenth century, and the tumultuous Hundred Years' War rages on. France is under siege, English soldiers tear through the countryside destroying all who cross their paths, and Charles VII, the uncrowned king, has neither the strength nor the will to rally his army. And in the quiet of her parents' garden in Domremy, a peasant girl sees a spangle of light and hears a powerful voice speak her name. Jehanne.
The story of Jehanne d'Arc, the visionary and saint who believed she had been chosen by God, who led an army and saved her country, has captivated our imaginations for centuries. But the story of Jehanne--the girl--whose sister was murdered by the English, who sought an escape from a violent father and a forced marriage, who taught herself to ride and to fight, and who somehow found the courage and tenacity to persuade first one, then two, then thousands to follow her, is at once thrilling, unexpected, and heartbreaking. Rich with unspoken love and battlefield valor, The Maid is a novel about the power and uncertainty of faith, and the exhilarating and devastating consequences of fame.

Praise For The Maid…
"Cutter makes the story of Saint Joan worth retelling by breathing new life into these characters and dramatizing the complex politics of their era in a strikingly engaging way. We see the bloody battles, the relationships formed and destroyed. We are with her when her voices fade, dimmed by stone walls and men's agendas. . . .[The Maid] does what all the best historical novels do: It raises the ongoing questions we need to ask ourselves." -- Brunonia Barry, Washington Post
"No one has ever written a fictional treatment of Joan of Arc that encompasses 'The Maid of Orleans' the way Kimberly Cutter has. From Jehanne's poverty-stricken upbringing, to her peculiar relationship with France's Dauphin, to her bloodthirsty battle actions and finally, to her sad last days, this book brings a misunderstood figure to blazing life." --
Minneapolis Star-Tribune
"A fiery portrait of one of history's most exalted heroines. Cutter's lavish imagery is outstanding and her dynamic characters are truly absorbing. The Maid is a triumphant re-imagining of a courageous, faithful and remarkably resilient woman." — Amanda Foreman, author of Georgiana and A World on Fire
"Cutter brings fresh insight to the story of Joan of Arc in this dynamic page-turner...The exhilaration of her many triumphs on the battlefield, the bloody combat, the deadly jealousies and political machinations that begin her undoing, and her tragic end are portrayed with vivid imagination and brio. In this stunning debut, Cutter pays vibrant homage to this legendary woman." — Publishers Weekly, starred review 
"
The Maid
is a brilliant portrait of Joan of Arc that peels away the layers of myth to reveal the inner world of an astonishing human being. Cutter has given new life to one of the most incredible women of all time." — Danielle Trussoni, author of
Angelology