A Young Man's Guide to Late Capitalism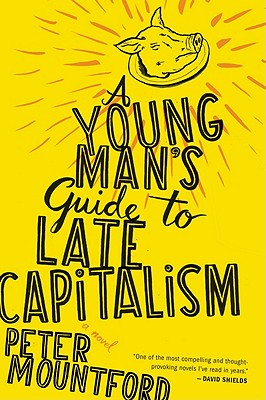 A Young Man's Guide to Late Capitalism
Mariner Books, Paperback, 9780547473352, 304pp.
Publication Date: April 12, 2011
* Individual store prices may vary.
Buy at Local Store
Enter your zip code below to purchase from an indie close to you.
or
Buy Here
Description
On his first assignment for a rapacious hedge fund, Gabriel embarks to Bolivia at the end of 2005 to ferret out insider information about the plans of the controversial president-elect. If Gabriel succeeds, he will get a bonus that would make him secure for life. Standing in his way are his headstrong mother, herself a survivor of Pinochet's Chile, and Gabriel's new love interest, the president's passionate press liaison. Caught in a growing web of lies and questioning his own role in profiting from an impoverished people, Gabriel sets in motion a terrifying plan that could cost him the love of all those he holds dear.In the tradition of Martin Amis, Joshua Ferris, and Sam Lipsyte set against the stunning mountainous backdrop of La Paz and interspersed with Bolivia's sad history of stubborn survival Peter Mountford examines the critical choices a young man makes as his world closes in on him.
Praise For A Young Man's Guide to Late Capitalism…
"The Bolivian setting is colorful and engaging, as are the financial maneuverings."
-Publishers Weekly

"[T]he novel holds the reader's interest to the end... [Mountford's] affectionate portrayal of Bolivia is probably the book's strongest point."
-Library Journal

"This is a solid read that is both adventurous and thought-provoking on the themes of racial identity, South Americans, politics, and wealth."
-Booklist

 "A Young Man's Guide to Late Capitalism is, quite simply, one of the most compelling and thought-provoking novels I've read in years. It's extraordinarily vivid, populated by characters whose fates I cared about desperately, beautifully written, timely beyond measure, but above all it conveys -- with impressive precision and nuance—how we are vectors on the grid of global capital; how difficult it is to even attempt to be an authentic, let alone admirable, human being when we are, first and last, cash flow."
— David Shields, author of Reality Hunger: A Manifesto 

"A Young Man's Guide to Late Capitalism is a terrific debut novel—smart, moving, beautifully written. Peter Mountford's parable of the voracious global economy reminded me of Graham Greene's The Quiet American in its clear-eyed depiction of the realpolitik of our age."
— Jess Walters, author of The Financial Lives of the Poets

"A Young Man's Guide to Late Capitalism is a brilliant debut novel, one that is generous in giving readers an original cast of vividly-drawn and unforgettable characters, learned in its knowledge of the interwoven worlds of finance and politics, sexy, and thoroughly cosmopolitan. Peter Mountford is easily one of the most gifted and skillful young writers, already accomplished, I have had the pleasure of reading in many years."
— Charles Johnson, author of Middle Passage and Dreamer

"In his debut novel, A Young Man's Guide to Late Capitalism, Peter Mountford has something important to say about the ambiguous moral ground where the personal meets the political. He has experience and sophistication beyond his years and is well-positioned to mine this vein. This novel is worth your time and attention."
— David Guterson, author of Snow Falling on Cedars

"Peter Mountford, in his amazing debut as a novelist, has updated the gilded myth of Wall Street swashbucklers in expensive suits and spun it out into the world in a hellbent tale, dramatizing the contorted rationalizations practiced by the financial elite to justify their self-delusion. Forget fame, respect, making the world a better place. Transcend the craving for money by acquiring a truckload of it. Buddha as a hedge fund operator, reallocating soullessness throughout the system."
— Bob Shacochis, author of Swimming in the Volcano and The Next New World

"Peter Mountford's A Young Man's Guide to Late Capitalism is a sharp, funny and terrifying novel— in a world so much like our own (part of the terror: it may, in fact, be our world), Gabriel's actions and the reactions of those around him caused me to wonder, again and again: how do I wish to live in this world, and what latitude might I find?"
— Peter Rock, author of My Abandonment

 
Thursday, Oct 25, 2012
Audie Cornish talks with author Peter Mountford, who discovered through a Google alert that his debut novel, A Young Man's Guide to Late Capitalism, was being translated into Russian by a black market e-book publisher. Rather than be offended, he started working with his Russian translator, helping him to understand concepts like "white liberal guilt." More at NPR.org