The Exegesis of Philip K. Dick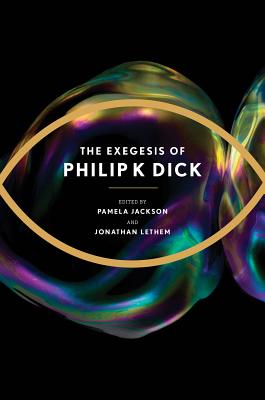 The Exegesis of Philip K. Dick
Houghton Mifflin, Hardcover, 9780547549255, 976pp.
Publication Date: November 8, 2011
* Individual store prices may vary.
Not Currently Available for Direct Purchase
or
Shop Local
Enter your zip code below to purchase from an indie close to you.
Description
A great and calamitous sequence of arguments with the universe: poignant, terrifying, ludicrous, and brilliant. The "Exegesis" is the sort of book associated with legends and madmen, but Dick wasn t a legend and he wasn t mad. He lived among us, and was a genius. Jonathan Lethem
Based on thousands of pages of typed and handwritten notes, journal entries, letters, and story sketches, "The Exegesis of Philip K. Dick" is the magnificent and imaginative final work of an author who dedicated his life to questioning the nature of reality and perception, the malleability of space and time, and the relationship between the human and the divine. Edited and introduced by Pamela Jackson and Jonathan Lethem, this is the definitive presentation of Dick's brilliant, and epic, work.
In the "Exegesis," Dick documents his eight-year attempt to fathom what he called 2-3-74, a postmodern visionary experience of the entire universe transformed into information. In entries that sometimes ran to hundreds of pages, in a freewheeling voice that ranges through personal confession, esoteric scholarship, dream accounts, and fictional fugues, Dick tried to write his way into the heart of a cosmic mystery that tested his powers of imagination and invention to the limit.
This volume, the culmination of many years of transcription and archival research, has been annotated by the editors and by a unique group of writers and scholars chosen to offer a range of views into one of the most improbable and mind-altering manuscripts ever brought to light.

About the Author
Philip K. Dick (1928-1982) was an American science-fiction novelist, short-story writer and essayist. A contemporary of Ursula K. Le Guin, Dick's first short story, "Beyond Lies the Wub," was published shortly after his high-school graduation. Many of Dick's works drew upon his personal experiences with drug abuse, addressing topics such as paranoia and schizophrenia, transcendental experiences and alternate reality, and the childhood death of his twin sister is reflected through the recurring theme of the "phantom twin" in many of his novels. Despite ongoing financial troubles and issues with the IRS, Dick had a prolific writing career, winning both the Hugo Award and the Nebula Award multiple times. Some of his most famous novels and stories--A Scanner Darkly, "The Minority Report," "Paycheck," and Do Androids Dream of Electric Sheep? (adapted into the film Blade Runner)--have been adapted for film. Dick died in 1982.

Jackson holds her MDiv and Ph.D. from Yale University. She is presently associate director of the Notre Dame Center for Liturgy.

Jonathan Lethem is the author of the novels Gun, with Occasional Music, Amnesia Moon, As She Climbed Across the Table, and Girl in Landscape. He lives in Brooklyn, NY.