The Unruly Passions of Eugenie R.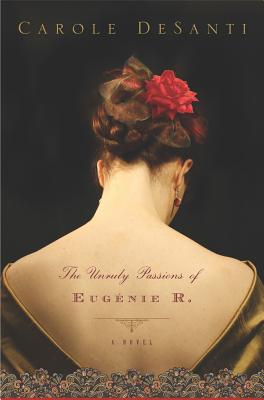 The Unruly Passions of Eugenie R.
Houghton Mifflin Harcourt, Hardcover, 9780547553092, 432pp.
Publication Date: March 27, 2012
* Individual store prices may vary.
Buy at Local Store
Enter your zip code below to purchase from an indie close to you.
or
Not Currently Available for Direct Purchase
Description
As fiercely depicted as the paintings of Toulouse-Lautrec. Stephanie Cowell, author of "Claude and Camille"
Love and war converge in this lush, epic story of a young woman's coming of age during and after France's Second Empire (1860 1871), an era that was absinthe-soaked, fueled by railway money and prostitution, and transformed by cataclysmic social upheaval.
Eugenie R., born in foie gras country, follows the man she loves to Paris but soon finds herself marooned. An outcast, she charts the treacherous waters of sexual commerce on a journey through artists ateliers and pawnshops, zinc bars and luxurious bordellos. Giving birth to a daughter she is forced to abandon, Eugenie spends the next ten years fighting to get her back, falling in love along the way with an artist, a woman, and a revolutionary. Then, as the gates of the city close on the eve of the Siege of Paris, Eugenie comes face to face with her past. Drawn into a net of desire and need, promises and lies, she must make a choice and find her way to a life that she can call her own.
"Eugenie R.'s story drops us into the dark velvety centers of sex, sin, and political intrigue, and takes us along on her own instinctive journey to modern womanhood." Lynn Hunt, Eugen Weber Professor of Modern European History, UCLA
"This astonishing debut is a panoramic story of war and peace, love and betrayal, innocence and hard-won wisdom." Lauren Belfer, author of "A Fierce Radiance
About the Author
Carole DeSanti, known for her championing of independent, high-quality voices in women's fiction as an editor at Penguin, has been clandestinely writing The Unruly Passions of Eugénie R. for over a decade. She has been profiled in Poets & Writers' Magazine, published in the Women's Review of Books, and awarded fellowships at the Five College Women's Studies Research Center and Hedgebrook.
Praise For The Unruly Passions of Eugenie R.…
"I lost myself whole-heartedly in [Eugénie's] story, and would have followed her down any narrow alley, into any candlelit room, just to know what happened, to stay back there and to delay coming home." —Sarah Blake, author of The Postmistress
"The Unruly Passions of Eugénie R. is an arresting tale of what it meant to survive as a woman in 19th-century France. With spare, powerful prose Carole DeSanti's debut novel paints an unflinching portrait of love and loss against a landscape of Parisian decadence." — Deborah Harkness, author of A Discovery of Witches
"Epic times make for epic books. The Unruly Passions of Eugénie R. is both sweeping in scope and painstaking in detail. Eugénie R.'s story, from naive goosegirl to resilient survivor, makes for wonderful, suspenseful reading, but tumultuous Paris is equally compelling, laid out here by DeSanti in all her grisly or gorgeous glory." — Karen Joy Fowler, author of The Jane Austen Book Club
"Against a carefully recreated landscape of France and the City of Lights during the 1860s, with the Prussian army heading for Paris, DeSanti brings a 21st-century sensitivity for the plight and passions of women in her rendering of Eugénie and the women and men she comes to travel (and drink) among." —Mireille Guiliano, internationally best-selling author of French Women Don't Get Fat
"Reading The Unruly Passions of Eugénie R. is like entering a lush dream filled with beauty and brutality. This astonishing debut is a panoramic story of war and peace, love and betrayal, innocence and hard-won wisdom, told through the eyes of a compelling woman who kept me at her side through it all." —Lauren Belfer, author of A Fierce Radiance
"So richly and sensuously drawn one can almost feel it . . . Perhaps if [Eugénie's] contemporary, Emma Bovary, had possessed the ingenuity, wit, and tenacity of Eugénie R., Madame B. wouldn't have had to take that arsenic." — Valerie Martin, author of The Confessions of Edward Day
"Lord! This is a great piece of work. How beautifully this is written. How rare that is to discover on the page." — Dorothy Allison, author of Bastard Out Of Carolina
"A magnificent novel in scope and achievement, powerfully written yet delicately evocative." — Fay Weldon