Solo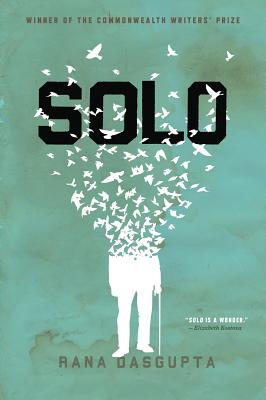 Solo
Mariner Books, Paperback, 9780547577661, 339pp.
Publication Date: February 14, 2012
* Individual store prices may vary.
Buy at Local Store
Enter your zip code below to purchase from an indie close to you.
or
Buy Here
Description
"Solo "is a wonder an exploration of memory, a window on a country and region mysterious to the West even in the twentieth century, a keen study of human love and failure. Elizabeth Kostova, author of "The Historian"
With imaginative audacity and lyrical brilliance, Rana Dasgupta paints a portrait of a century through the story of a hundred-year-old blind Bulgarian man in this remarkable and dazzling debut novel.
In the first movement of "Solo "we meet Ulrich, the son of a railroad engineer. His passion for chemistry leads him to Berlin, but his studies are cut short when he must return to Sofia to look after his parents. He never leaves Bulgaria again. Except in his daydreams and it is those dreams we enter in the volatile second half of the book. In a radical leap from past to present, from life lived to life imagined, Dasgupta follows Ulrich's fantasy children, born of communism but making their way into a post-communist world of celebrity and violence.
Intertwining science and heartbreak, the old world and the new, "Solo "is a virtuoso work.
A novel utterly refreshing in its blunt acknowledgment that thoroughgoing realism involves escaping reality as much as constructing it . . . What makes Mr. Dasgupta's adventurous storytelling especially rewarding is the way he carefully integrates tiny details from Ulrich's drab life into his fantasy, transfiguring them like hay spun into gold . . . Invigorating. "Wall Street Journal"

About the Author
RANA DASGUPTA won the 2010 Commonwealth Writers' Prize for Best Book for his debut novel Solo. He is also the author of a collection of urban folktales, Tokyo Cancelled, which was shortlisted for the 2005 John Llewellyn Rhys Prize. Capital is his first work of non-fiction. Born in Canterbury, England, in 1971, he now lives in Delhi.
Praise For Solo…
"Intertwining science and heartbreak, the old world and the new, Dasgupta's debut novel Solo highlights a century of social revolution through the powerful story of a 100-year-old blind man. Though Solo tells the story of [Ulrich's] bleak life, it ultimately speaks of tragedy on a broader scale - that of the human condition."
-The Daily Beast

"Ulrich is a textured study in human failure and the wreckage of communism."
-The New York Times
"Dasgupta is a deeply empathetic serious writer... The last section of Solo brims with superb descriptions of folk music and the drunken tale of men and women who are brought together, then driven apart by the fall of Communism."
-The New York Times Book Review

"SOLO is a wonder--an exploration of memory, a window on a country and region mysterious to the West even in the twentieth century, a keen study of human love and failure." 
- Elizabeth Kostova, author of The Historian
Solo
is "bold, enigmatic, and thought-provoking. ... a richly imagined world... Lucid prose and a narrative scheme both demanding and inchoate reveal a writer beginning to deploy his considerable powers. "
-
Publishers Weekly
, starred "Intricate and imaginative, a remarkable novel of music and science, politics and passion, that bridges history and modern times. [...] Graceful and unpredictable, a daring and exceptional achievement."
-
Kirkus Reviews
, starred "A novel of exceptional, astonishing strangeness,
Solo
confirms Rana Dasgupta as the most unexpected and original Indian writer of his generation." 
- Salman Rushdie  "The sedimentary structure—layering stories of opportunity and oppression—makes
Solo
a double pleasure: readers can enjoy Dasgupta's imagination but must also confront problems of celebrity and commerce. Part historical fiction, part heartbreak, part pop culture; think Aleksandar Hemon."
-
Library Journal
"With an intriguing bifurcated storytelling device, this is a novel of dazzling ideas and emotion in which Dasgupta comes to astonishingly beautiful and original conclusions about love, loss, and aging, and his protagonist realizes 'There is far more to us than what we live.'"
-
Booklist

"Utterly unforgettable in its humanity."
-
The Guardian
(UK)
"This gloriously eccentric adventure through a century of Bulgarian history is so much fun to read you'll hardly realise how much you're learning . . . Dasgupta colourfully weaves Ulrich's passions for art, science and his best friend's sister through the two world wars (did you know that, although forced to join the fascist bloc, Tsar Boris III refused to hand over Bulgaria's Jews to Hitler?), the fall of the Bulgarian royal family and the rise of communism. . . . weird, wonderful and warmly wise stuff." 
-
The Daily Mail
(UK)
"Bearing in mind that Dasgupta is a British-Asian author writing about a 100-year-old, blind Bulgarian born at the dawn of the 20th century, it is perhaps unsurprising to learn that one of the most notable features of his often beguiling novel is its quivering air of otherness. Confined to his decrepit Sofia home, the hero, Ulrich, begins a soaring flight of the imagination that explores both his past and his country's. . . For as long as the spell remains unbroken, it is worth every second." 
- The Sunday Times (UK)

"What a delight to find a novelist unfazed by the 21st century ... This is an important work." 
-The Australian "Solo is a nuanced and virtuoso performance." 
- Scotland on Sunday