When We Were the Kennedys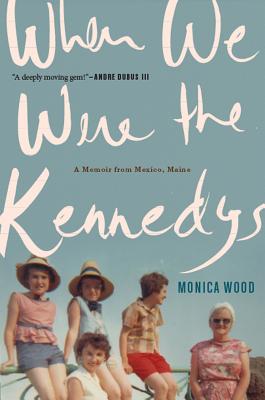 When We Were the Kennedys
A Memoir from Mexico, Maine
Houghton Mifflin Harcourt, Hardcover, 9780547630144, 256pp.
Publication Date: July 10, 2012
* Individual store prices may vary.
Not Currently Available for Direct Purchase
or
Shop Local
Enter your zip code below to purchase from an indie close to you.
Description
1963, Mexico, Maine. The Wood family is much like its close, Catholic, immigrant neighbors, all dependent on a father's wages from the Oxford Paper Company. Until the sudden death of Dad, when Mum and the four closely connected Wood girls are set adrift. Funny and to-the-bone moving, "When We Were the Kennedys" is the story of how this family saves itself, at first by depending on Father Bob, Mum's youngest brother, a charismatic Catholic priest who feels his new responsibilities deeply. And then, as the nation is shocked by the loss of its handsome Catholic president, the televised grace of Jackie Kennedy she too a Catholic widow with young children galvanizes Mum to set off on an unprecedented family road trip to Washington, D.C., to do some rescuing of her own. An indelible story of how family and nation, each shocked by the unimaginable, exchange one identity for another.
Monica Wood has written a gorgeous, gripping memoir. I don t know that I ve ever pulled so hard for a family. Michael Paterniti, author of "Driving Mr. Albert

About the Author
Monica Wood is the author of four works of fiction, most recently Any Bitter Thing, which spent 21 weeks on the American Booksellers Association extended bestseller list and was named a Book Sense Top Ten pick. Her other fiction includes Ernie's Ark and My Only Story, a finalist for the Kate Chopin Award.
Praise For When We Were the Kennedys…
"Every few years, a memoir comes along that revitalizes the form, that takes us by the hand and leads us into the dream world of our collective past from which we emerge more wholly ourselves. With generous, precise, and unsentimental prose, Monica Wood brilliantly achieves this, bringing back to life the rural paper mill town of not only her youth but America's, too, its bumbling, hard-working, often violent, yet mostly good-hearted lurch forward into the 21st century. When We Were the Kennedys is a deeply moving gem!"—Andre Dubus III, author of House of Sand and Fog and Townie
"This is an extraordinarily moving book, so carefully and artfully realized, about loss and life and love.  Monica Wood displays all her superb novelistic skills in this breathtaking, evocative new memoir.  Wow."—Ken Burns, filmmaker
"Monica Wood has written a gorgeous, gripping memoir. I don't know that I've ever pulled so hard for a family. When We Were the Kennedys captures a shimmering mill-town world on the edge of oblivion, in a voice that brims with hope, feeling, and wonder. The book humbles and soars."—Mike Paterniti, author of Driving Mr. Albert
"Monica Wood is a stunning writer and When We Were the Kennedys a luminous and resonant achievement. If I were standing beside you, I would press this book into your hands."—Lily King, author of The Pleasing Hour and Father of the Rain