Enchanted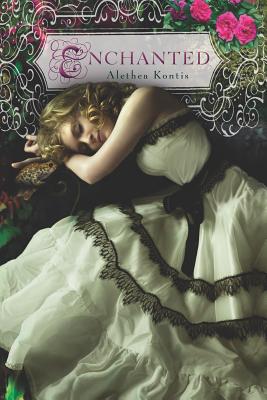 Enchanted
Harcourt Children's Books, Hardcover, 9780547645704, 308pp.
Publication Date: May 8, 2012
* Individual store prices may vary.
Buy at Local Store
Enter your zip code below to purchase from an indie close to you.
or
Buy Here
Description
It isn t easy being the rather overlooked and unhappy youngest sibling to sisters named for the other six days of the week. Sunday's only comfort is writing stories, although what she writes has a terrible tendency to come true.
When Sunday meets an enchanted frog who asks about her stories, the two become friends. Soon that friendship deepens into something magical. One night Sunday kisses her frog goodbye and leaves, not realizing that her love has transformed him back into Rumbold, the crown prince of Arilland and a man Sunday's family despises.
The prince returns to his castle, intent on making Sunday fall in love with him as the man he is, not the frog he was. But Sunday is not so easy to woo. How can she feel such a strange, strong attraction for this prince she barely knows? And what twisted secrets lie hidden in his past and hers?
About the Author
ALETHEA KONTISis the author of the Woodcutter Sisters series, which includesEnchanted, Hero, and Dearest. She is also the "New York Times" best-sellingco-author of Sherrilyn Kenyon s The Dark-Hunter Companion". "Alethea was a student of science fiction greats Andre Norton and Orson Scott Card. She lives and writes on Florida's Space Coast. Visit her website at www.aletheakontis.com.
Praise For Enchanted…
A Kirkus Best Teen Book of 2012   * "A fabulous fairy-tale mashup that deserves hordes of avid readers. Absolutely delectable."—Kirkus Reviews, starred review   * "Kontis delivers a fairy-tale mash-up that outright sparkles."—School Library Journal, starred review   "Fantasy readers will undoubtedly enjoy the . . . mash-up of these famous stories, spiced with comedy, romance and magical powers."—VOYA   "A wonderful mix-up of fairy-tale tropes, a clever love story, and a delightful tale all on its own!"—Tamora Pierce   "A charming tumble of fairy tales, spiced with humor and sprinkled with true love." —Sharon Shinn, best-selling author of the Samaria series   "If Neil Gaiman and the Brothers Grimm had a child who grew up to weave fairy tales, she would be Alethea Kontis. Read this book—it's an absolute winner."—J.T. Ellison, best-selling author of Where All the Dead Lie   "As mischievous a garden full of fairies and twice as clever, Enchanted proves there's more than life left in the oldest genre in the world—there's a lot of heart, too." —Sean Williams, New York Times best-selling author   "Kontis is a born spell-caster and her work is spellbinding. In the style of great fairy tales, Kontis has created a delightful, heartfelt new classic that can charm the sun out from behind the clouds." —Leanna Renee Hieber, author of the Strangely Beautiful and Magic Most Foul series   "Alethea Kontis's debut is full of inventive whimsy. Take your favorite fairytale and spin it to the side, throw in a half-dozen other tales all dancing, and you get this Enchanted ball."—Mary Robinette Kowal, award-winning author of Shades of Milk and Honey   "It's the relaxed humor of Kontis' presentation that not only ups the realism of characters unfazed by talking frogs and fey characters but also gives this offering its sweet, distinctive stamp."—Booklist