The Tao of Travel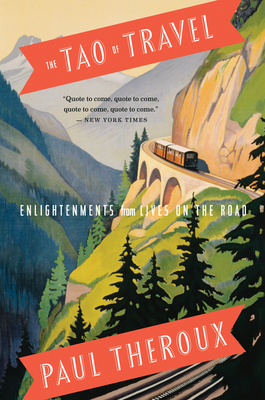 The Tao of Travel
Enlightenments from Lives on the Road
Mariner Books, Paperback, 9780547737379, 304pp.
Publication Date: July 24, 2012
* Individual store prices may vary.
Buy Now
or
Shop Local
Enter your zip code below to purchase from an indie close to you.
Description
A book to be plundered and raided. "New York Times Book Review"
A portal into a world of timeless travel literature curated by one of the greatest travel writers of our day. "USA Today"
Paul Theroux celebrates fifty years of wandering the globe in this collection of the best writing from the books that have shaped him as a reader and a traveler. Part philosophical guide, part miscellany, part reminiscence, "The Tao of Travel "contains excerpts from the best of Theroux's own work interspersed with selections from travelers both familiar and unexpected:
"Vladimir Nabokov Eudora Welty
Evelyn Waugh James Baldwin
Charles Dickens Pico Iyer
Henry David Thoreau Anton Chekhov
Mark Twain John McPhee
Freya Stark Ernest Hemingway
Graham Greene and many others"
Dazzling . . . Like someone panning for gold, Theroux reread hundreds of travel classics and modern works, shaking out the nuggets. "San Francisco Chronicle.
About the Author
PAUL THEROUXis the author of many highly acclaimed books. His novels include The Lower River and The Mosquito Coast, and his renowned travel books include Ghost Train to the Eastern Star and Dark Star Safari. He lives in Hawaii and Cape Cod.
Praise For The Tao of Travel…
A "determinedly personal collection of travel appreciation."-Kirkus ReviewsA "diverting meditation on passages from his own and other writers' works. [T]he strongest pieces descry a tangible place through a discerning eye and pungent sensibility..."-Publishers Weekly
"A book to be plundered and raided." — New York Times Book Review
"A portal into a world of timeless travel literature curated by one of the greatest travel writers of our day." — USA Today
Paul Theroux celebrates fifty years of wandering the globe in this collection of the best writing from the books that have shaped him as a reader and a traveler. Part philosophical guide, part miscellany, part reminiscence, The Tao of Travel contains excerpts from the best of Theroux's own work interspersed with selections from travelers both familiar and unexpected:
Vladimir Nabokov Eudora Welty
Evelyn Waugh James Baldwin
Charles Dickens Pico Iyer
Henry David Thoreau Anton Chekhov
Mark Twain John McPhee
Freya Stark Ernest Hemingway
Graham Greene and many others
"Dazzling . . . Like someone panning for gold, Theroux reread hundreds of travel classics and modern works, shaking out the nuggets." — San Francisco Chronicle