Sexy Feminism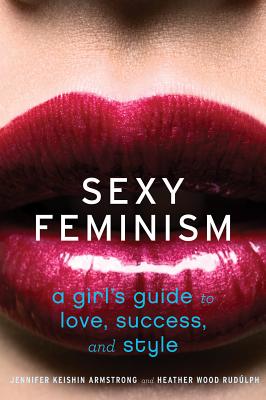 Sexy Feminism
A Girl's Guide to Love, Success, and Style
Mariner Books, Paperback, 9780547738307, 256pp.
Publication Date: March 12, 2013
* Individual store prices may vary.
Buy at Local Store
Enter your zip code below to purchase from an indie close to you.
or
Buy Here
Description
"We live in a society where sex is used against women as much as it's used by women. "Sexy Feminism "calls foul on that (and other) double standards and makes manifest my frequent observation that feminists are almost always the sexiest people in the room. Jennifer Baumgardner, author of "F em : Goo Goo, Gaga, and" "Some Thoughts on Balls
"
Not your mother's feminism A humor-filled action plan for an accessible, cool, and, yes, even sexy brand of 21st-century feminism
Feminism can still seem like an abstract idea that is hard to incorporate into our hectic, modern lives, but Jennifer Keishin Armstrong and Heather Wood Rudulph show how the everyday things really matter. In an age when concern-trolling, slut-shaming, and body-snarking are blogosphere bywords, when reproductive rights are back under political attack, and when women are constantly pressured to have it all, feminism is more relevant than ever. For many young women the radicalism of the Second Wave is unappealing, and the do me and lipstick feminism of the Third Wave feels out of date. Enter "Sexy Feminism." It's an inclusive, approachable kind of feminism miniskirts, lip gloss, and waxing permitted. Covering a range of topics from body issues and workplace gender politics to fashion, dating, and sex, "Sexy Feminism "is full of advice, resources, and pop culture references that will help shape what being a feminist can look like for you.
Genius "Sexy Feminism "is a delicious primer for budding feminists (and the feminist-curious), as well as a sigh of relief for long-term third-wave feminists who long to be understood and are tired of explaining our beliefs. Jennifer and Heather do an outrageously good service to us all by bringing feminism into its sexy, confident maturity. Katie Goodman, feminist comedian and actress

About the Author
Jennifer Keishin Armstrong is the author of Why? Because We Still Like You and coauthor of Sexy Feminism.

Heather Wood Rudulph is the co-founder of sexyfeminist.com and a lifestyle writer and editor. She has spent twelve years covering entertainment and pop culture for outlets such as the Los Angeles Daily News, AOL and Movies.com, and editing lifestyle content for the likes of the Huffington Post and DAYSPA Magazine. She specializes in writing about feminism, pop culture and relationships, and teaches writing for the Gotham Writers Workshop.