I'll Never Get Out of This World Alive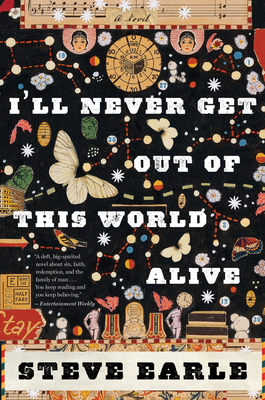 I'll Never Get Out of This World Alive
Mariner Books, Paperback, 9780547754437, 243pp.
Publication Date: May 22, 2012
* Individual store prices may vary.
Buy Now
or
Shop Local
Enter your zip code below to purchase from an indie close to you.
Description
Steve Earle brings to his prose the same authenticity, poetic spirit, and cinematic energy he projects in his music. "I ll Never Get Out of This World Alive" is like a dream you can t shake, offering beauty and remorse, redemption in spades. Patti Smith
Shot through with humor and insight and . . . enough action and intriguing characters in it to keep readers turning pages. "Boston Globe"
Doc Ebersole lives with the ghost of Hank Williams. Literally.
In 1963, ten years after he may have given Hank the morphine shot that killed him, Doc has lost his license. Living in the red-light district of San Antonio, he performs abortions and patches up the odd knife wound to feed his addiction. But when Graciela, a young Mexican immigrant, appears in the neighborhood in search of Doc's services, miraculous things begin to happen. Everyone she meets is transformed for the better, except, maybe, for Hank's angry ghost who isn t at all pleased to see Doc doing well.

About the Author
" "STEVE EARLE "is a singer-songwriter, actor, activist, and the author of a "Los Angeles Times "Book of the Year, the story collection "Doghouse Roses. "He has released more than a dozen critically acclaimed albums, including the Grammy winners "The Revolution Starts Now, Washington Square Serenade, "and "Townes. "He has appeared on film and television, with celebrated roles in "The Wire "and "Treme. "His newest album, also entitled "I?ll Never Get Out of This World Alive, "was produced by T Bone Burnett. He often tours with his wife, singer-songwriter Allison Moorer.
Praise For I'll Never Get Out of This World Alive…
"Steve Earle brings to his prose the same authenticity, poetic spirit and cinematic energy he projects in his music. I'll Never Get Out of This World Alive is like a dream you can't shake, offering beauty and remorse, redemption in spades." 
—Patti Smith ". . . a doctor, a Mexican girl, an Irish priest, the ghost of Hank Williams, and JFK the day before he dies. This subtle and dramatic book is the work of a brilliant songwriter who has moved from song to orchestral ballad with astonishing ease."
—Michael Ondaatje "A rich, raw mix of American myth and hard social reality, of faith and doubt, always firmly rooted in a strong sense of character."
—Charles Frazier "Steve Earle writes like a shimmering neon angel." —Kinky Friedman "Earle has created a potent blend of realism and mysticism in this compelling, morally complex story of troubled souls striving for a last chance at redemption. Musician, actor, and now novelist—is there another artist in America with such wide-ranging talent?"
—Ron Rash "The characters are unforgettable, and the plot moves like a fast train. A fantastic mixture of hard reality and dark imagination."
—Thomas Cobb "Raw, honest and unafraid, this novel veers in and out of the lives of its many memorable characters with flawless pitch. Earle has given us dozens of remarkable songs, he has given us a dazzling collection of short stories, and now here's his first novel, a doozy from a great American storyteller."
—Tom Franklin "A haunting and haunted bookend to Irving's Cider House Rules. Gritty and transcendent, Earle has successfully created his own potion of Texas, twang, and dope-tinged magic-realism."
—Alice Randall "If Jesus were to return tomorrow to twenty-first-century America, and do some street preaching on the gritty South Presa Strip of San Antonio, he'd love Earle's magnificently human, big-hearted drifters."
—Howard Frank Mosher "Colorful, cool, and downright gripping."
—Robert Earl Keen "Reads like the best of Steve Earle's story songs, which means real good. The tale of a more charmingly haunted, trying-to-do-the-right-thing dope fiend you won't easily find."
—Mark Jacobson "The best book I've read since The Road. As much or more than any other artist of his generation Steve Earle rises to the call, culturally and politically, traditionally in folk and country and rock music and what he's added there, and with acting and writing for theater, and now with all the literary forms crescendoing in this beautiful novel. He just keeps stepping up."
—R. B. Morris "Steve Earle astonishes us yet again. Country Rock's outlaw legend brings the ghost of Hank Williams to life in a gloriously gritty first novel that soars like a song. And echoes in the heart."
—Terry Bisson

"A mighty fine piece of storytelling."
—Madison Smartt Bell