Tomorrow There Will Be Apricots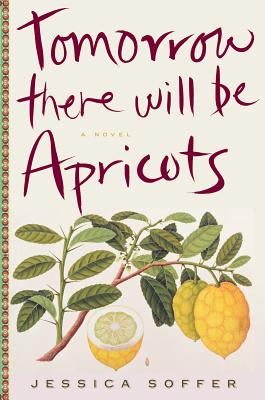 Tomorrow There Will Be Apricots
Houghton Mifflin, Hardcover, 9780547759265, 336pp.
Publication Date: April 16, 2013
* Individual store prices may vary.
Buy at Local Store
Enter your zip code below to purchase from an indie close to you.
or
Not Currently Available for Direct Purchase
Description
From a debut author already praised by Colum McCann as a "profound and necessary new voice" comes a novel about two women adrift in New York—an Iraqi Jewish widow and the latchkey daughter of a chef—who find each other and a new kind of family through their shared love of cooking.
About the Author
JESSICA SOFFER earned her MFA at Hunter College, where she was a Hertog Fellow. Her work has appeared in Granta, Vogueand the New York Times, among other publications. Her father, a painter and sculptor, emigrated from Iraq to the US in the late 1940s. She teaches fiction at Connecticut College and lives in New York City.
Praise For Tomorrow There Will Be Apricots…
"Soffer's breathtaking prose interweaves delectable descriptions of food with a profoundly redemptive story about loss, self-discovery, and acceptance."
—O: The Oprah Magazine
"Teenage Lorca, who has been cutting herself since she was six, still can't win the attention she craves from her beautiful and inaccessible mother, and so she concocts an impossible scheme to save herself from being sent to boarding school: She'll re-create the best dinner her mother ever ate, featuring an Iraqi dish called masgouf that here is as fraught with significance as Babette's feast. Lorca is a diligent dreamer, enlisting the help of a bookstore clerk named Blot and cooking lessons from a grieving Iraqi widow. But in this novel of shifting point of views, you want to linger longest with Lorca; both her shortcomings and her desires are so identifiable you can't help but root for her."
—Vogue.com
"TOMORROW THERE WILL BE APRICOTS is an astounding accomplisment for a young, new voice. Undoubtedly this is the beginining of a spectacular career."
—Woodbury Magazine
"Told in Victoria and Lorca's alternating first-person voices, the character driven novel… offers fully realized, multidimensional characters who invite empathy and compassion."
—Booklist
"An unhappy teen and a shellshocked widow make a vital connection, though not the one they initially think, in Soffer's somber debut....Well-written and atmospheric."
—Kirkus
"This powerful debut sheds light on the meaning and power of family, whether its members are blood-related or "created" by nonrelatives. Food is what strengthens relationships here, particularly the search for specific recipes. Young, troubled Lorca lives in New York City; her distracted mother, a chef, is rather uninterested in Lorca's psychological troubles; her estranged father lives in New Hampshire. Researching how to prepare an unusual meal, Lorca feels she can win her mother's interest and love if she can prepare this delicacy. She meets Victoria, who once owned a restaurant specializing in Iraqi meals. Their cooking lessons lead to confided morsels of their own pasts. However, it is not just the love of food but understanding and acceptance that help to make this such a lovely novel."
—STARRED, Library Journal
"Lovers of food-centered fiction should find some nourishment in Soffer's debut."
—Publishers Weekly
"This first novel by Jessica Soffer is a work of beauty in words. There is no dead wood in this story; not a word is indispensable. Ms. Soffer is a master artist painting the hidden hues of the human soul. Tomorrow There Will Be Apricots is an intelligent work in the vein of Azar Nafisi where the humanity of the characters transcends cultural or national differences and illustrates commonalities."
—New York Journal of Books
"Tomorrow there will be Apricots is not a fairytale and just when it seems things are going to be neatly resolved, Soffer reminds us that life doesn't work that way. What is expected is not so, and people revert to the behaviors they know. The book, like life, is messy and unpredictable and does not go the way the reader may want, but it is powerful and true and ultimately, beautiful."
—Gilmore Guide to Books

"Soffer's wonderful debut paints an elegant portrait of two women lost in the crush, who find themselves and each other through food. Delicious in more ways than one."
—Flavorwire
"TOMORROW THERE WILL BE APRICOTS by Jessica Soffer tells a poignant story of love, acceptance and memory in the unusual pairing of an Iraqi Jewish widow haunted by the daughter she had given away four decades before and a young teen-age girl who yearns to bring satisfaction to her mother by learning to make a dish she seemed to yearn for. The two meet improbably and feed off of each other's hopes and desires, as well as a over a mouth-watering menu of Iraqi culinary specialties.  Beautifully written with a deep understanding of both woman and girl, the book is a first novel for Jessica Soffer, daughter of an Iraqi Jewish artist, whose imagination and versatility bode well for her future."
—Moment Magazine
"Lush and layered...This is story about family and love, and how food feeds both of these, but also a story of loss and pain and the empty stomachs of those still learning how to feel. For that I find it, much like life, alive and sobering, buoyant and blue, at times dark, but only until the light fills the room."
—The Millions
"[A story] of love, craving and family lost and gained, all through the experience of food — particularly the tangy, smoky, cardamom and saffron-spiced dishes of the Persian Gulf....[Soffer's] writing is as painful as it is exquisite, and [her book] exposes the raw power of love."
—The Forward
"What makes a family? Where do we find our sustenance? Jessica Soffer examines the often debated questions with artful storytelling. She calls on all of our senses to consider the age old issue of nature vs. nurture. But food, laden with history and culture, the legendary path to the heart, is the medium. Mix in a very needy cast of characters and the recipe for a good tale is perfected."
—Jewish Book World
"A delectable tale of the families we choose...indeed, we root for all of Soffer's rich and complex characters."
—BookPage
"A profound and necessary new voice. Soffer's prose is as controlled as it is fresh, as incisive as it is musical. Soffer has arrived early, with an orchestra of talent at her disposal."
—Colum McCann
"Lit by prose of startling beauty and originality, Jessica Soffer's novel of loss, love, food, and finding family is insightful and, as the story unfolds, increasingly moving. This is that rare debut with the capacity to genuinely satisfy the broadest swath of readers—from foodies to poets, mothers to daughters, solitary souls to friends debating subjects close to their hearts. She is a writer to watch; this is a story that matures and expands with each page."
—Nicole Mones, author of The Last Chinese Chef
"This lovely book is the story of lost souls hanging on to each other for dear life, then finding hope and healing. An emotional page-turner with characters who touched my heart and soon felt like old friends, it commandeered my time until the sweet and satisfying ending. Hard to believe such a wise book is a first novel. Here's hoping there's much more to come from this wonderful writer."
—Bo Caldwell, author of The Distant Land of My Father and City of Tranquil Light
"This beautiful, beautiful book calls to mind The Elegance of the Hedgehog, for its artistry and heart, and for its two unlikely soul mates—one old, one young, both harboring private grief, shaping their lives around what is missing, looking for families fate has denied them. A gifted storyteller, Soffer writes with a rare combination of fearlessness and compassion; she has a sage's ability to find absurdity and humor in sorrow. Her characters, as familiar as our own imperfect faces in the mirror, remind us to forgive ourselves our foibles: after all, hope—and the need for human connection—makes fools of us all. I dare anyone to barricade their heart against this enchanting novel." 
—Stephanie Kallos, author of Broken for You and Sing Them Home
"I devoured this mouth-watering story of self-discovery, one as deep-rooted as an ancient fruit tree perpetually blossoming anew. With prose sharp as a paring knife, Soffer shows us that love transcends cultural boundaries, age, old wounds and new seasons. So, too, does this novel. A savory debut!"
—Sarah McCoy, author of The Baker's Daughter
"Jessica Soffer's gorgeous and word-wise novel shows us how a single sentence can contain wonders, and a kitchen can contain epics; this is a fantastic debut."
—Rivka Galchen, author of Atmospheric Disturbances
"Tomorrow There Will Be Apricots is elegant, sensual, surprising and rich. Jessica Soffer delivers a world to us, populated with indelible characters whose fates, as they become entwined, spur us to read fast, faster, except to do so would be to miss the beauty of Soffer's language, which is to be savored. This is a superb debut."
—Dani Shapiro