The Prague Cemetery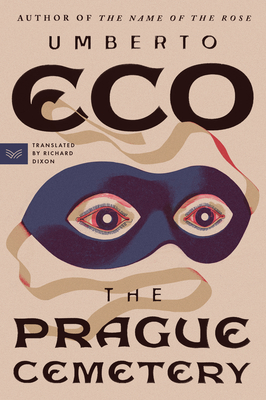 The Prague Cemetery
Mariner Books, Paperback, 9780547844206, 444pp.
Publication Date: September 2012
* Individual store prices may vary.
Buy Now
or
Shop Local
Enter your zip code below to purchase from an indie close to you.
Description
The latest international bestseller from the author of The Name of the Rose and Foucault's Pendulum.
Nineteenth-century Europe—from Turin to Prague to Paris—abounds with the ghastly and the mysterious. Jesuits plot against Freemasons. Italian republicans strangle priests with their own intestines. French criminals plan bombings by day and celebrate Black Masses at night. Every nation has its own secret service, perpetrating forgeries, plots, and massacres. Conspiracies rule history. From the unification of Italy to the Paris Commune to the Dreyfus Affair to The Protocols of the Elders of Zion, Europe is in tumult and everyone needs a scapegoat. But what if, behind all of these conspiracies, both real and imagined, lay one lone man? What if that evil genius created the world's most infamous document?
About the Author
UMBERTO ECO is the author of five novels and numerous essay collections, including The Name of the Rose, The Prague Cemetery, and Inventing the Enemy. He received Italy's highest literary award, the Premio Strega, was named a Chevalier de la Legion d'Honneur by the French government, and is an honorary member of the American Academy of Arts and Letters.

Rich Dixon has taught middle school math for more than thirty years. When he's not teaching, he can often be found riding his hand cycle, logging about two thousand miles each year. He wrote Relentless Grace to encourage and challenge others to live above their difficult circumstances and to give hopeand the God of hope another chance. He lives with his wife, Becky, and his service dog, Monte, in Fort Collins, Colorado.
Praise For The Prague Cemetery…
"I find this book fascinating, perhaps the best Eco has written in years." —Huffington Post   "A well-executed thriller . . . provocative and suspenseful." —USA Today
"[Eco's] latest takes that longtime thriller darling, the conspiracy theory, and turns it into something grander...Sold to 40 countries and said to be controversial; a speed-read with smarts." —Library Journal, "My Picks"
"A whirlwind tour of conspiracy and political intrigue...this dark tale is delightfully embellished with sophisticated and playful commentary on, among other things, Freud, metafiction, and the challenges of historiography." —Booklist
"Intriguing, hilarious....a tale by a master." —Publishers Weekly boxed review
"He's got a humdinger in this new high-level whodunit...a perplexing, multilayered, attention-holding mystery." —Kirkus, starred