A Boy and a Jaguar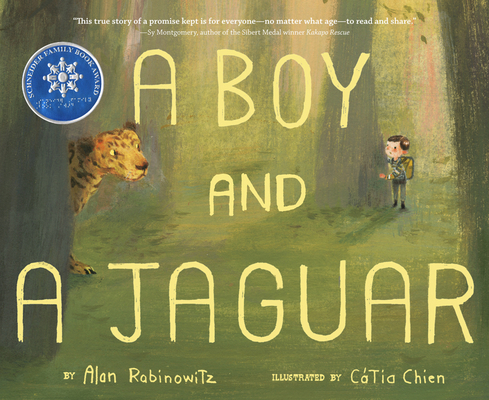 A Boy and a Jaguar
Houghton Mifflin, Hardcover, 9780547875071, 32pp.
Publication Date: May 6, 2014
* Individual store prices may vary.
Buy Now
or
Shop Local
Enter your zip code below to purchase from an indie close to you.
Description
2015 Schneider Family Book Award Winner
Alan loves animals, but the great cat house at the Bronx Zoo makes him sad. Whyare theyall alone in empty cages? Are they being punished? More than anything, he wants to be their champion their voice but he stutters uncontrollably.

Except when he talks to animals
Then he is fluent.
Follow the life of the man "Time Magazine" calls, "the Indiana Jones of wildlife conservation"as he searches for his voice and fulfills a promise to speak for animals, and people, who cannot speak for themselves.This real-life story with tender illustrations by Catia Chien explores truths not defined by the spoken word.

About the Author
Alan Rabinowitz is CEO of Panthera Foundation. Educated at the University of Tennessee, with degrees in zoology and wildlife ecology, Dr. Rabinowitz has traveled the world on behalf of wildlife conservation and has studied jaguars, clouded leopards, Asiatic leopards, tigers, Sumatran rhinos, bears, leopard cats, raccoons, and civets. His work in Belize resulted in the world s first jaguar sanctuary; his work in Taiwan resulted in the establishment of that country s largest protected area, its last piece of intact lowland forest; his work in Thailand generated the first field research on Indochinese tigers, Asiatic leopards, and leopard cats, in what was to become the region s first World Heritage Site; and his work in Myanmar has led to the creation of five new protected areas there: the country s first marine national park, the country s first and largest Himalayan national park, the country's largest wildlife sanctuary, and the world s largest tiger reserve. Dr. Rabinowitz has authored nearly eighty scientific and popular articles and six books, including "Jaguar: One Man s Struggle to Establish the First Jaguar Preserve" (1986/2000), "Chasing the Dragon s Tail: The Struggle to Save Thailand s Wild Cats" (1991/2002), and "Beyond the Last Village: A Journey of Discovery in Asia s Forbidden Wilderness""New York Times, National Geographic Adventure Magazine, Outside Magazine, Scientific American", "Men s Fitness, GEO, Natural History", and"Audubon". He has been featured in television specials by the National Geographic Society and the BBC, and recently consulted on an IMAX film project about tigers in the Sundarbans of Bangladesh and India.

Catia Chien is an avid painter who works from her studio in Southern California. She is a collection of fun entomology facts and has been known to prefer soup over most other types of food. Besides filled with vivid imagination, her work is described as rich with whimsy, colors, and energy. She is currently producing work for the children's book market, film and animation, comic book anthologies, and galleries.
Sunday, Jun 8, 2014
Alan Rabinowitz grew up with a terrible stutter, but he felt comforted by the big cats at the zoo. Now an accomplished jaguar expert, Rabinowitz tells his touching boyhood story in a book for kids. More at NPR.org