Education of a Wandering Man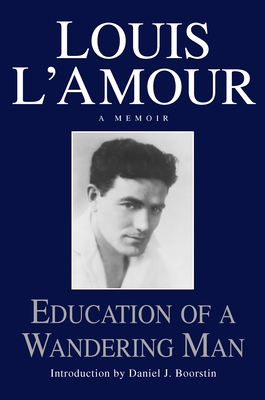 Education of a Wandering Man
Bantam, Hardcover, 9780553057034, 232pp.
Publication Date: April 29, 2008
* Individual store prices may vary.
Buy at Local Store
Enter your zip code below to purchase from an indie close to you.
or
Buy Here
Description
Shortly before his death in June 1988, Louis L Amour completed writing his most unique adventure story: a personal reflection on his lifelong love affair with learning. Now Bantam Books proudly presents this special Centennial Edition of Education of a Wandering Man," " in which L Amour vividly recalls many of the books he read, the places he visited, and the people he met that catalyzed his evolution as a writer.
In this, his most personal book ever, L Amour writes of growing up in Jamestown, North Dakota, of the parents who instilled in him a love of the printed and spoken word, and of his decision to leave school at fifteen to make the world his classroom. While his contemporaries attended high school, L Amour skinned cattle in Texas, worked as a circus roustabout and a mine caretaker, won small-town prizefighting exhibitions, hoboed across Texas on the Southern Pacific, and shipped out to the West Indies, England, and Singapore as a merchant seaman. Wherever he wandered, his pockets were always bulging with books.
Like the beloved Louis L Amour novels and short stories that preceded it, Education of a Wandering Man has its share of frontier drama such as the author's desperate two-day trek across the blazing Mojave Desert and robust characters, ranging from Shanghai waterfront toughs to itinerant desert prospectors. All this ultimately informed and inspired the books that have made L Amour one of the most widely read authors of our time.
Ever both teacher and storyteller, Louis L Amour makes his education our education, in a book filled with glorious asides on everything from hobo culture to the fate of Butch Cassidy.
Here is a testament part memoir, part reflection in which the author bequeaths to us a most wonderful legacy of the education of a wandering man: a life lived to the fullest through the never-ending quest for knowledge.
About the Author
Louis L'Amour (1908-1988) was an American author whose Western stories are loved the world over. Born in Jamestown, North Dakota, he was the most decorated author in the history of American letters. In 1982 he was the first American author ever to be awarded a Special National Gold Medal by the United States Congress for lifetime literary achievement, and in 1984 President Reagan awarded him the Medal of Freedom, the highest civilian honor in the nation. He was also a recipient of the Theodore Roosevelt Rough Rider Award.