The Adventures of Huckleberry Finn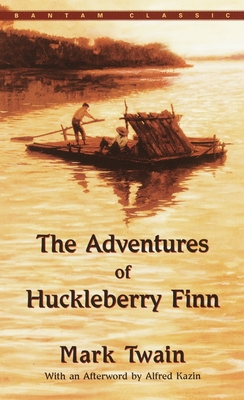 The Adventures of Huckleberry Finn
Bantam Classics, Mass Market Paperbound, 9780553210798, 320pp.
Publication Date: February 1981
* Individual store prices may vary.
Shop Local
Enter your zip code below to find indies closest to you.
Description
Hilariously picaresque, epic in scope, alive withthe poetry and vigor of the American people, MarkTwain's story about a young boy and his journeydown the Mississippi was the first great novel tospeak in a truly American voice. Influencingsubsequent generations of writers -- from SherwoodAnderson to Twain's fellow Missourian, T.S. Eliot, from Ernest Hemingway and WilliamFaulkner to J.D. Salinger --"Huckleberry Finn," like the riverwhich flows through its pages, is one of the greatsources which nourished and still nourishes theliterature of America.
About the Author
Shelley Fisher Fishkin is Joseph S. Atha Professor of Humanities, Professor of English and Director of American Studies at Stanford University. She is the author of "Lighting Out for the Territory: Reflections on Mark Twain and American Culture "(1997); "Was Huck Black? Mark Twain and African-American Voices "(1993), selected as an Outstanding Academic Book by "Choice; "and "From Fact to Fiction: Journalism and Imaginative Writing in America "(2000), winner of a Frank Luther Mott/Kappa Tau Alpha Award for outstanding research in journalism history. She is also the editor of the 29-volume "Oxford Mark Twain "and the "Oxford Historical Guide to Mark Twain. "Barry Moser is one of the foremost wood engravers in the United States and is the proprietor of the Pennyroyal Press. Among other books, he illustrated "Huckleberry Finn "(California, 1985), "Moby Dick "(California, 1981), "Dante's Inferno "(California 1980), "Purgatorio "(California, 1981), and "Paradiso "(California, 1984), and the "Holy Bible "(1999). The Mark Twain Project is housed within the Mark Twain Papers, the world's largest archive of primary materials by this major American writer. Under the direction of General Editor Robert H. Hirst, the Project's five editors are producing the first comprehensive edition of all Mark Twain's writings, more than thirty volumes of which have so far been published by the University of California Press.
Alfred Kazin was born in Brooklyn in 1915. His first book, On Native Grounds, published in 1942, revolutionized critical perceptions of American literature. It was followed by many more books of essays and criticism, including A Walker in the City and, most recently, Writing Was Everything.
Kazin has taught at Harvard, Smith, Amherst, Hunter College, and the Graduate Center of the City University of New York. In 1996, he received the Truman Capote Literary Trust's first Lifetime Award in Literary Criticism.
Kazin lives in New York City.
Praise For The Adventures of Huckleberry Finn…
"All modern American literature comes from one book by Mark Twain called Huckleberry Finn. It's the best book we've had." --Ernest Hemingway