The Adventures of Tom Sawyer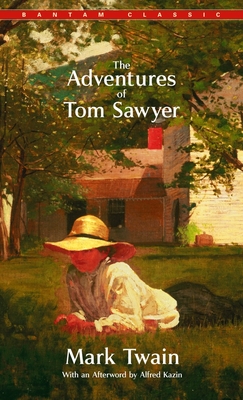 The Adventures of Tom Sawyer
Bantam Classics, Mass Market Paperbound, 9780553211283, 240pp.
Publication Date: January 1995
* Individual store prices may vary.
Shop Local
Enter your zip code below to find indies closest to you.
Description
Sparkling with mischief, jumping with youthful adventure, Mark Twain's Tom Sawyer is one of the most splendid re-creations of childhood in all of literature. It is a lighthearted romp, full of humor and warmth. It shares with its sequel, Huckleberry Finn, not only a set of unforgettable characters--Tom, Huck, Aunt Polly and others--but a profound understanding of humanity as well. Through such hilarious scenes as the famous fence-whitewashing incident, Twain gives a portrait--perceptive yet tender--of a humanity rendered foolish by his own aspirations and obsessions. Written as much for adults as for young boys and girls, Tom Sawyer is the work of a master storyteller performing in his shirt sleeves, using his best talents to everyone's delight.
About the Author
Shelley Fisher Fishkin is Joseph S. Atha Professor of Humanities, Professor of English and Director of American Studies at Stanford University. She is the author of "Lighting Out for the Territory: Reflections on Mark Twain and American Culture "(1997); "Was Huck Black? Mark Twain and African-American Voices "(1993), selected as an Outstanding Academic Book by "Choice; "and "From Fact to Fiction: Journalism and Imaginative Writing in America "(2000), winner of a Frank Luther Mott/Kappa Tau Alpha Award for outstanding research in journalism history. She is also the editor of the 29-volume "Oxford Mark Twain "and the "Oxford Historical Guide to Mark Twain. "Barry Moser is one of the foremost wood engravers in the United States and is the proprietor of the Pennyroyal Press. Among other books, he illustrated "Huckleberry Finn "(California, 1985), "Moby Dick "(California, 1981), "Dante's Inferno "(California 1980), "Purgatorio "(California, 1981), and "Paradiso "(California, 1984), and the "Holy Bible "(1999). The Mark Twain Project is housed within the Mark Twain Papers, the world's largest archive of primary materials by this major American writer. Under the direction of General Editor Robert H. Hirst, the Project's five editors are producing the first comprehensive edition of all Mark Twain's writings, more than thirty volumes of which have so far been published by the University of California Press.
Alfred Kazin was born in Brooklyn in 1915. His first book, On Native Grounds, published in 1942, revolutionized critical perceptions of American literature. It was followed by many more books of essays and criticism, including A Walker in the City and, most recently, Writing Was Everything.
Kazin has taught at Harvard, Smith, Amherst, Hunter College, and the Graduate Center of the City University of New York. In 1996, he received the Truman Capote Literary Trust's first Lifetime Award in Literary Criticism.
Kazin lives in New York City.
Praise For The Adventures of Tom Sawyer…
"Twain had a greater effect than any other writer on the evolution of American prose."