Uncle Tom's Cabin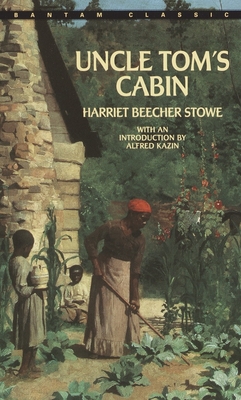 Uncle Tom's Cabin
Bantam Classics, Mass Market Paperbound, 9780553212181, 544pp.
Publication Date: December 1, 1982
* Individual store prices may vary.
Buy at Local Store
Enter your zip code below to purchase from an indie close to you.
or
Buy Here
Description
Uncle Tom, Topsy, Sambo, Simon Legree, little Eva: their names are American bywords, and all of them are characters in Harriet Beecher Stowe's remarkable novel of the pre-Civil War South. Uncle Tom's Cabin was revolutionary in 1852 for its passionate indictment of slavery and for its presentation of Tom, "a man of humanity," as the first black hero in American fiction. Labeled racist and condescending by some contemporary critics, it remains a shocking, controversial, and powerful work -- exposing the attitudes of white nineteenth-century society toward "the peculiar institution" and documenting, in heartrending detail, the tragic breakup of black Kentucky families "sold down the river." An immediate international sensation, Uncle Tom's Cabin sold 300,000 copies in the first year, was translated into thirty-seven languages, and has never gone out of print: its political impact was immense, its emotional influence immeasurable.
About the Author
Harriet Beecher Stowe was an American author and abolitionist. Born in Litchfield, Connecticut, she was raised in a deeply religious family and educated in a seminary school run by her elder sister. In her adult life, Stowe married biblical scholar and abolitionist Calvin Ellis Stowe, who would later go on to work as Harriet s literary agent, and the two participated in the Underground Railroad by providing temporary refuge for escaped slaves travelling to the American North. Shortly before the outbreak of the American Civil War, Stowe published her most famous work, Uncle Tom s Cabin, a stark and sympathetic depiction of the desperate lives of African American slaves. The book went on to see unprecedented sales, and informed American and European attitudes towards abolition. In the years leading up to her death, suffering from dementia or Alzheimer s disease, Stowe is said to have begun re-writing Uncle Tom s Cabin, almost word-for-word, believing that she was writing the original manuscript once again. Stowe died in July 1, 1896 at the age of eighty-five.

Alfred Kazin was Distinguished Professor of English, Emeritus, at Hunter College and the Graduate Center, City University of New York, and author and editor of many books, including "A Writer's America: Landscape in American Literature".
Praise For Uncle Tom's Cabin…
"Uncle Tom's Cabin is the most powerful and enduring work of art ever written about American slavery."
—Alfred Kazin