The Prince and the Pauper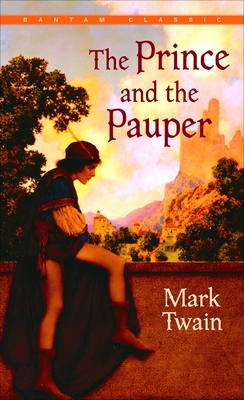 The Prince and the Pauper
Bantam Books, Mass Market Paperbound, 9780553212563, 240pp.
Publication Date: November 1983
* Individual store prices may vary.
Shop Local
Enter your zip code below to find indies closest to you.
Description
Rich with surprise and hilarious adventure, The Prince and the Pauper is a delightful satire of England's romantic past and a joyful boyhood romp filled with the same tongue-in-cheek irony that sparks the best of Mark Twain's tall tales. Two boys, one an urchin from London's filthy lanes, the other a prince born in a lavish palace, unwittingly trade identities. Thus a bedraggled Prince of Poverty discovers that his private dreams have all come true while a pampered Prince of Wales finds himself tossed into a rough-and-tumble world of squalid beggars and villainous thieves. Originally written as a story for children, The Prince and the Pauper is a classic novel for adults as well through its stinging attack on the ageless human folly of attempting to measure true worth by outer appearances.
About the Author
Shelley Fisher Fishkin is Joseph S. Atha Professor of Humanities, Professor of English and Director of American Studies at Stanford University. She is the author of "Lighting Out for the Territory: Reflections on Mark Twain and American Culture "(1997); "Was Huck Black? Mark Twain and African-American Voices "(1993), selected as an Outstanding Academic Book by "Choice; "and "From Fact to Fiction: Journalism and Imaginative Writing in America "(2000), winner of a Frank Luther Mott/Kappa Tau Alpha Award for outstanding research in journalism history. She is also the editor of the 29-volume "Oxford Mark Twain "and the "Oxford Historical Guide to Mark Twain. "Barry Moser is one of the foremost wood engravers in the United States and is the proprietor of the Pennyroyal Press. Among other books, he illustrated "Huckleberry Finn "(California, 1985), "Moby Dick "(California, 1981), "Dante's Inferno "(California 1980), "Purgatorio "(California, 1981), and "Paradiso "(California, 1984), and the "Holy Bible "(1999). The Mark Twain Project is housed within the Mark Twain Papers, the world's largest archive of primary materials by this major American writer. Under the direction of General Editor Robert H. Hirst, the Project's five editors are producing the first comprehensive edition of all Mark Twain's writings, more than thirty volumes of which have so far been published by the University of California Press.
Praise For The Prince and the Pauper…
"Twain was . . . enough of a genius to build his morality into his books, with humor and wit and—in the case of The Prince and the Pauper—wonderful plotting."—E. L. Doctorow