The Prince and the Pauper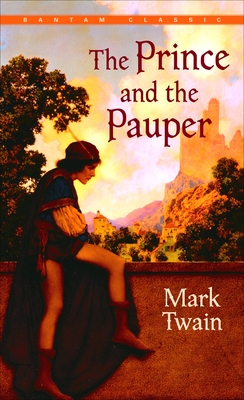 The Prince and the Pauper
Bantam Books, Mass Market Paperbound, 9780553212563, 240pp.
Publication Date: February 4, 2002
* Individual store prices may vary.
Buy at Local Store
Enter your zip code below to purchase from an indie close to you.
or
Buy Here
Description
Rich with surprise and hilarious adventure, The Prince and the Pauper is a delightful satire of England's romantic past and a joyful boyhood romp filled with the same tongue-in-cheek irony that sparks the best of Mark Twain's tall tales. Two boys, one an urchin from London's filthy lanes, the other a prince born in a lavish palace, unwittingly trade identities. Thus a bedraggled Prince of Poverty discovers that his private dreams have all come true while a pampered Prince of Wales finds himself tossed into a rough-and-tumble world of squalid beggars and villainous thieves. Originally written as a story for children, The Prince and the Pauper is a classic novel for adults as well through its stinging attack on the ageless human folly of attempting to measure true worth by outer appearances.
About the Author
Mark Twain, born Samuel Langhorne Clemens, was an American humorist and writer, who is best known for his enduring novels The Adventures of Tom Sawyer and Adventures of Huckleberry Finn, which has been called the Great American Novel. Raised in Hannibal, Missouri, Twain held a variety of jobs including typesetter, riverboat pilot, and miner before achieving nationwide attention for his work as a journalist with The Celebrated Jumping Frog of Calaveras County. He earned critical and popular praise for his wit and enjoyed a successful career as a public speaker in addition to his writing. Twain s works were remarkable for his ability to capture colloquial speech, although his adherence to the vernacular of the time has resulted in the suppression of his works by schools in modern times. Twain s birth in 1835 coincided with a visit by Halley s Comet, and Twain predicted, accurately, that he would go out with it as well, dying the day following the comet s return in 1910.
Praise For The Prince and the Pauper…
"Twain was . . . enough of a genius to build his morality into his books, with humor and wit and—in the case of The Prince and the Pauper—wonderful plotting."—E. L. Doctorow