Four Comedies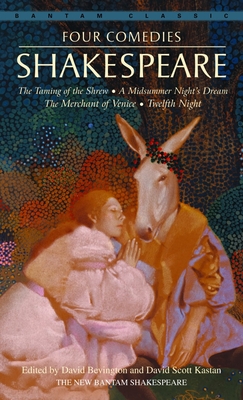 Four Comedies
The Taming of the Shrew, a Midsummer Night's Dream, the Merchant of Venice, Twelfth Night
Bantam Classics, Mass Market Paperbound, 9780553212815, 736pp.
Publication Date: January 1, 1988
* Individual store prices may vary.
Buy Now
or
Shop Local
Enter your zip code below to purchase from an indie close to you.
Description
"The Taming of the Shrew"
Robust and bawdy, The Taming of the Shrew captivates audiences with outrageous humor as Katharina, the shrew, engages in a contest of wills and love with her bridegroom, Petruchio, in a comedy of unmatched theatrical brilliance, filled with visual gags and witty repartee.
"A Midsummer Night's Dream"
Fairy magic, love spells, and an enchanted wood turn the mismatched rivalries of four young lovers into a marvelous mix-up of desire and enchantment, all touched by Shakespeare's inimitable vision of the intriguing relationship between dreams and the waking world.
"
The Merchant of Venice"
This dark comedy of love and money contains one of the truly mythic figures in literature Shylock, the Jewish moneylender. The pound of flesh he demands as payment of Antonio's debt has become a universal metaphor for vengeance. Here, pathos and farce combine with moral complexity and romantic entanglements, to display the extraordinary power and range of Shakespeare at his best.
"
Twelfth Night"
Set in a topsy-turvy world like a holiday revel, this comedy juxtaposes a romantic plot involving separated twins and mistaken identity with a more satiric one about the humiliation of a pompous killjoy. The hilarity is touched with melancholy, and the play ends, not with laughter, but with a clown's plaintive song.
Each Edition Includes:
Comprehensive explanatory notes
Vivid introductions and the most up-to-date scholarship
Clear, modernized spelling and punctuation, enabling contemporary readers to understand the Elizabethan English
Completely updated, detailed bibliographies and performance histories
An interpretive essay on film adaptations of the play, along with an extensive filmography.
About the Author
Arguably the greatest English-language playwright, William Shakespeare was a seventeenth-century writer and dramatist, and is known as the Bard of Avon. Under the patronage of Queen Elizabeth I, he penned more than 30 plays, 154 sonnets, and numerous narrative poems and short verses. Equally accomplished in histories, tragedies, comedy, and romance, Shakespeare s most famous works include Romeo and Juliet, Hamlet, Macbeth, King Lear, The Taming of the Shrew, and As You Like It.
Like many of his contemporaries, including Christopher Marlowe, Shakespeare began his career on the stage, eventually rising to become part-owner of Lord Chamberlain s Men, a popular dramatic company of his day, and of the storied Globe Theatre in London.
Extremely popular in his lifetime, Shakespeare s works continue to resonate more than three hundred years after his death. His plays are performed more often than any other playwright s, have been translated into every major language in the world, and are studied widely by scholars and students.
David Bevington is the Phyllis Fay Horton Distinguished Service Professor in the Humanities at the University of Chicago.
David Scott Kastan is the George M. Bodman Professor of English at Yale University, USA.