Three Early Comedies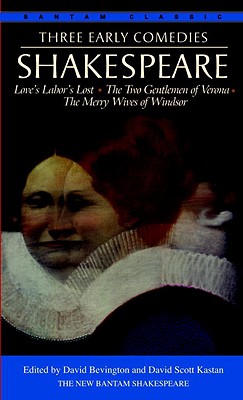 Three Early Comedies
Love's Labor's Lost, the Two Gentlemen of Verona, the Merry Wives of Windsor
Bantam Classics, Mass Market Paperbound, 9780553212822, 560pp.
Publication Date: January 1, 1988
* Individual store prices may vary.
Buy at Local Store
Enter your zip code below to purchase from an indie close to you.
or
Not Currently Available for Direct Purchase
Description
Three Early Comedies
"
Love's Labor's Lost"
Farce and fun follow when a young king and his three friends vow to give up women for a year just as a pretty princess and her three ladies-in-waiting arrive in a delightful play that ends with one of Shakespeare's loveliest songs.
"The Two Gentlemen of Verona"
In this lyrical comedy, two friends are infatuated with the same woman, while a jilted girl disguised as a boy and a clownish servant with a raffish mutt set the scene for laughter and a timeless story of love.
"
The Merry Wives of Windsor"
Shakespeare's famous rogue, Falstaff, woos two married women with identical love letters and becomes the focus of a hilarious comedy when the women conspire to teach him a lesson.
About the Author
Arguably the greatest English-language playwright, William Shakespeare was a seventeenth-century writer and dramatist, and is known as the Bard of Avon. Under the patronage of Queen Elizabeth I, he penned more than 30 plays, 154 sonnets, and numerous narrative poems and short verses. Equally accomplished in histories, tragedies, comedy, and romance, Shakespeare s most famous works include Romeo and Juliet, Hamlet, Macbeth, King Lear, The Taming of the Shrew, and As You Like It.
Like many of his contemporaries, including Christopher Marlowe, Shakespeare began his career on the stage, eventually rising to become part-owner of Lord Chamberlain s Men, a popular dramatic company of his day, and of the storied Globe Theatre in London.
Extremely popular in his lifetime, Shakespeare s works continue to resonate more than three hundred years after his death. His plays are performed more often than any other playwright s, have been translated into every major language in the world, and are studied widely by scholars and students.
David Bevington is Professor Emeritus at the University of Chicago. His recent publications include "Shakespeare: The Seven Ages of Human Experience" (second edition, 2005) and "Shakespeare: Script, Stage, Screen" (with Anne Marie Welsh and Michael L. Greenwald, 2006). He has also edited the Bantam Shakespeare in 29 volumes (currently being reedited), "The Complete Works of Shakespeare" (fifth edition, 2003), and a number of individual Shakespeare plays including "Antony and Cleopatra," "Henry IV, Part I," and "Troilus and Cressida,"
David Scott Kastan is the George M. Bodman Professor of English at Yale University, USA.