As You Like It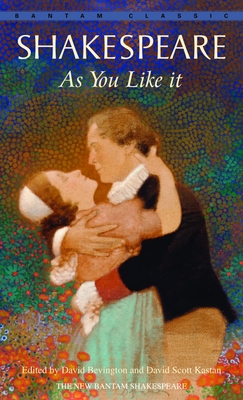 As You Like It
Bantam Classics, Mass Market Paperbound, 9780553212907, 288pp.
Publication Date: January 1, 1988
* Individual store prices may vary.
Buy at Local Store
Enter your zip code below to purchase from an indie close to you.
or
Buy Here
Description
This wisely funny comedy, which contains some of Shakespeare's loveliest poetry, contrasts a court's world of envy and rivalry with a forest's world of compassion and harmony. In the Forest of Arden, the banished young heroine, Rosalind, disguised as a gentleman farmer, encounters an extraordinary assemblage of characters, including a fool, a malcontent traveler, her own banished father, and the banished young man she loves. Romantic happiness triumphs, even as we laugh at the excesses of love, at the ways of court and countryside, indeed, at everything, in this masterpiece of comic writing.
Each Edition Includes:
Comprehensive explanatory notes
Vivid introductions and the most up-to-date scholarship
Clear, modernized spelling and punctuation, enabling contemporary readers to understand the Elizabethan English
Completely updated, detailed bibliographies and performance histories
An interpretive essay on film adaptations of the play, along with an extensive filmography.
About the Author
Arguably the greatest English-language playwright, William Shakespeare was a seventeenth-century writer and dramatist, and is known as the Bard of Avon. Under the patronage of Queen Elizabeth I, he penned more than 30 plays, 154 sonnets, and numerous narrative poems and short verses. Equally accomplished in histories, tragedies, comedy, and romance, Shakespeare s most famous works include Romeo and Juliet, Hamlet, Macbeth, King Lear, The Taming of the Shrew, and As You Like It.
Like many of his contemporaries, including Christopher Marlowe, Shakespeare began his career on the stage, eventually rising to become part-owner of Lord Chamberlain s Men, a popular dramatic company of his day, and of the storied Globe Theatre in London.
Extremely popular in his lifetime, Shakespeare s works continue to resonate more than three hundred years after his death. His plays are performed more often than any other playwright s, have been translated into every major language in the world, and are studied widely by scholars and students.
David Bevington is the Phyllis Fay Horton Distinguished Service Professor in the Humanities at the University of Chicago.
David Scott Kastan is the George M. Bodman Professor of English at Yale University, USA.