The War of the Worlds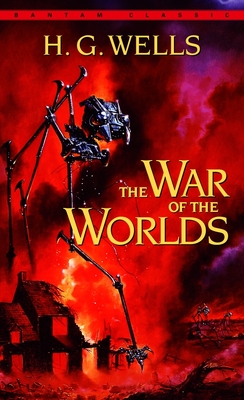 The War of the Worlds
Bantam Classics, Mass Market Paperbound, 9780553213386, 194pp.
Publication Date: November 1, 1988
* Individual store prices may vary.
Buy at Local Store
Enter your zip code below to purchase from an indie close to you.
or
Buy Here
Description
H.G. Wells's science fiction classic, the first novel to explore the possibilities of intelligent life from other planets, it still startling and vivid nearly after a century after its appearance, and a half-century after Orson Wells's infamous 1938 radio adaptation. The daring portrayal of aliens landing on English soil, with its themes of interplanetary imperialism, technological holocaust and chaos, is central to the career of H.G. Wells, who died at the dawn of the atomic age. The survival of mankind in the face of "vast and cool and unsympathetic" scientific powers spinning out of control was a crucial theme throughout his work. Visionary, shocking and chilling, The War Of The Worlds has lost none of its impact since its first publication in 1898.
About the Author
Often called the father of science fiction, British author Herbert George (H. G.) Wells literary works are notable for being some of the first titles of the science fiction genre, and include such famed titles as The Time Machine, The War of the Worlds, The Island of Doctor Moreau, and The Invisible Man. Despite being fixedly associated with science fiction, Wells wrote extensively in other genres and on many subjects, including history, society and politics, and was heavily influenced by Darwinism. His first book, Anticipations of the Reaction of Mechanical and Scientific Progress Upon Human Life and Thought, offered predictions about what technology and society would look like in the year 2000, many of which have proven accurate. Wells went on to pen over fifty novels, numerous non-fiction books, and dozens of short stories. His legacy has had an overwhelming influence on science fiction, popular culture, and even on technological and scientific innovation. Wells died in 1946 at the age of 79.
Praise For The War of the Worlds…
"The creations of Mr. Wells . . . belong unreservedly to an age and degree of scientific knowledge far removed from the present, though I will not say entirely beyond the limits of the possible." —Jules Verne