The Origin of Species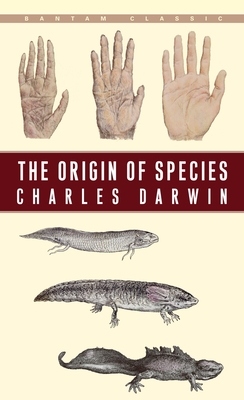 The Origin of Species
By Means of Natural Selection or the Preservation of Favoured Races in the Struggle for Life
Bantam Classics, Mass Market Paperbound, 9780553214635, 512pp.
Publication Date: May 31, 1999
* Individual store prices may vary.
Buy at Local Store
Enter your zip code below to purchase from an indie close to you.
or
Buy Here
Description
The publication of Darwin's The Origin of Species in 1859 marked a dramatic turning point in scientific thought. The volume had taken Darwin more than twenty years to publish, in part because he envisioned the storm of controversy it was certain to unleash. Indeed, selling out its first edition on its first day, The Origin of Species revolutionized science, philosophy, and theology.
Darwin's reasoned, documented arguments carefully advance his theory of natural selection and his assertion that species were not created all at once by a divine hand but started with a few simple forms that mutated and adapted over time. Whether commenting on his own poor health, discussing his experiments to test instinct in bees, or relating a conversation about a South American burrowing rodent, Darwin's monumental achievement is surprisingly personal and delightfully readable. Its profound ideas remain controversial even today, making it the most influential book in the natural sciences ever written an important work not just to its time but to the history of humankind.
About the Author
Charles Darwin was an English naturalist and author best-known for his revolutionary theories on the origin of species, human evolution, and natural selection. A life-long interest in the natural world led Darwin to neglect his medical studies and instead embark on a five-year scientific voyage on the HMS Beagle, where he established his reputation as a geologist and gathered much of the evidence that fuelled his later theories.A prolific writer, Darwin s most famous published works include The Voyage of the Beagle, On the Origin of Species, The Descent of Man, and Selection in Relation to Sex, and The Expression of Emotions in Man and Animals. Darwin died in 1882, and in recognition of his contributions to science, is buried in Westminster Abbey along with John Herschel and Isaac Newton.