Narcissus and Goldmund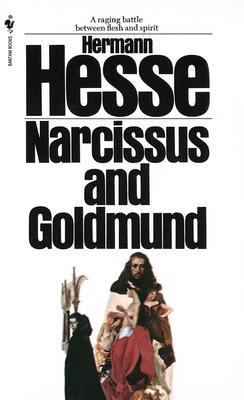 Narcissus and Goldmund
Bantam, Mass Market Paperbound, 9780553275865, 320pp.
Publication Date: February 1, 1984
* Individual store prices may vary.
Buy at Local Store
Enter your zip code below to purchase from an indie close to you.
or
Buy Here
Description
Hesse's novel of two medieval men, one quietlycontent with his religion and monastic life, theother in fervent search of more worldly salvation.This conflict between flesh and spirit, betweenemotional and contemplative man, was a life study forHesse. It is a theme that transcends all time.The Hesse Phenomenon "has turned into a vogue, the vogue into a torrent. . .He has appealed bothto. . . an underground and to an establishment. ..and to the disenchanted young sharing his contemptfor our industrialcivilization."--"The New York Times Book Review.
About the Author
When this German novelist, poet, and essayist publicly denounced the savagery and hatred of World War I, he was considered a traitor. He moved to Switzerland where he eventually became a naturalized citizen. He warned of the advent of World War II, predicting that cultureless efficiency would destroy the modern world. His theme is the conflict between the elements of a person's dual nature and the problem of spiritual loneliness. His first novel, Peter Camenzind, was published in 1904. His masterpiece, Death and the Lover (1930), contrasts a scholarly abbot and his beloved pupil, who leaves the monastery for the adventurous world. Steppenwolf (1927), a European bestseller, was published when defeated Germany had begun to plan for another war. It is the story of Haller, who recognizes in himself the blend of the human and wolfish traits of the completely sterile scholarly project. Hesse won the Nobel Prize in 1946. During the 1960s Hesse became a favorite writer of the counter culture, especially in the United States, though his critical reputation has never equaled his popularity. Hermann Hesse died in 1962.

KAREN HESSE is the author of some fifteen books for children, and was recently awarded a prestigious MacArthur Foundation "Genius Grant" for her contribution to the literature of children and young adults. Her many novels have garnered considerable success, including the Sydney Taylor Award, the IRA/YA Award, 5 Notable Books for Children, 4 Best Books for Young Adults, and the Newbery Medal in 1998. Hesse has spent many years promotion her books to the school market, and is well-known in classrooms throughout the country. She and her husband, Randy, live in Brattleboro, Vermont.

Ursule Molinaro authored more than a dozen novels, two dozen widely produced one-act plays, three volumes of non-fiction, and over one hundred short stories. Her novels and stories have been published also in England, France, and Japan. She was a self-trained artist (her paintings and collages appear on her McPherson titles), and avid acrosticist. Ursule Molinaro diedin New York City on July 12, 2000.