Moodswing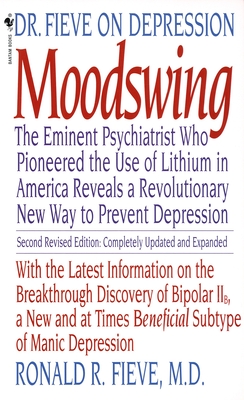 Moodswing
Dr. Fieve on Depression: The Eminent Psychiatrist Who Pioneered the Use of Lithium in America Reveals a Revolutionary
Bantam, Mass Market Paperbound, 9780553279832, 336pp.
Publication Date: August 8, 1989
* Individual store prices may vary.
Buy at Local Store
Enter your zip code below to purchase from an indie close to you.
or
Buy Here
Description
Fifteen years ago, this groundbreaking book provided new hope for those whose lives were devastated by moodswings and depression.Now, in this newly revised and updated edition, Dr. Ronald R. Fieve, the pioneer in the treatment of depression in America, offers an even brighter prognosis.Major advances in drug therapy have provided dramatic chemical "cures" that alleviate symptoms faster, more efficiently, and at a lower cost that ever before.

In this revised and expanded "Moodswing," Dr. Fieve sheds new light on the causes and symptoms of specific mood disorders, including manic depression, seasonal depression, and PMS.Then, through case studies, he illustrates the effective use of the latest diagnostic methods and drug treatments.He also provides fascinating information on:

Why creative types are often prone to manic-depressive disorders--the results of a fifteen-year follow-up study.

How manic depression, alcoholism, and substance abuse go hand in hand.

How presidents, Pulitzer Prize-winning playwrights, and Wall Street wizards can benefit from "manic advantage," but crumble when their moods crash.

The revolutionary uses of one of psychiatry's greatest wonder drugs: lithium, as well as new material on the latest antidepressant drugs.

Why teenage and adult suicide is on the upswing and what friends and family can do to prevent it.

Why traditional psychoanalysis in the treatment of depression is, in many cases, no longer necessary.
About the Author


Internationally renowned psychiatrist Ronald R. Fieve, M.D., is one of the foremost experts in the clinical use of Prozac as well as the pioneer in the use of lithium for manic depression in America. A gradutate of Harvard Medical School, extensively trained in psychopharmacology as well as psychoanalysis, he served his residencies in internal medicine at New York Hospital and in psychiatry at Columbia-Presbyterian Medical Center and the New York State Psychiatric Institute. Dr. Fieve is Professor of Clinical Psychiatry at Columbia University, a chief of psychiatric research at the New York State Psychiatric Institute, and the founder and president of the Foundation for Depression and Manic Depression in New York City. In addition to writing the bestselling Moodswing, he has also published Second Opinion on Lithium Therapy for Depression and Manic Depression and numerous articles in scientific journals. He maintains a private practice on the foundation premises at 7 East 67th Street, New York City.