The Complete Sherlock Holmes #2 Boxed Set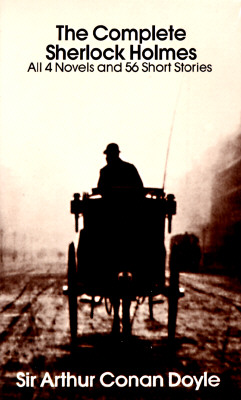 The Complete Sherlock Holmes #2 Boxed Set
Bantam Classics, Boxed Set, 9780553328257, 2pp.
Publication Date: October 1, 2002
* Individual store prices may vary.
Buy at Local Store
Enter your zip code below to purchase from an indie close to you.
or
Buy Here
Description
The complete collection ofSherlock Holmes's adventures in crime, including all four novels and fifty-six short stories featuringSir Arthur Conan Doyle sclassic hero
Volume I includes the early novelA Study in Scarlet, which introduced the eccentric genius of Sherlock Holmes to the world. This baffling murder mystery, with the cryptic word Rache written in blood, first brought Holmes together with Dr. John Watson. Next, The Sign of Fourpresents Holmes's famous seven percent solution and the strange puzzle of Mary Morstan in the quintessential locked-room mystery.Also included are Holmes's feats of extraordinary detection in such famous cases as The Adventure of the Speckled Band, The Musgrave Ritual, and The Five Orange Pips.
Volume II begins withThe Hound of the Baskervilles, a haunting novel of murder on eerie Grimpen Moor, which has rightly earned its reputation as the finest murder mystery ever written.The Valley of Fearmatches Holmes against his archenemy, the master of imaginative crime, Professor Moriarty. In addition, the loyal Dr. Watson has faithfully recorded Holmes's exploits from The Adventure of the Red Circle to the twelve baffling enigmas fromThe Case Book of Sherlock Holmes.
Conan Doyle's incomparable tales bring to life a Victorian England of horse-drawn cabs, fogs, and the famous lodgings at 221B Baker Street, where for more than forty years Sherlock Holmes earned his undisputed reputation as the greatest fictional detective of all time.