Even Cowgirls Get the Blues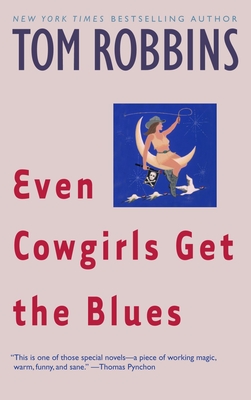 Even Cowgirls Get the Blues
Bantam Books, Paperback, 9780553349498, 384pp.
Publication Date: April 1, 1990
* Individual store prices may vary.
Buy Now
or
Shop Local
Enter your zip code below to purchase from an indie close to you.
Description
The whooping crane rustlers are girls. Young girls. Cowgirls, as a matter of fact, all bursting with dimples and hormones and the FBI has never seen anything quite like them. Yet their rebellion at the Rubber Rose Ranch is almost overshadowed by the arrival of the legendary Sissy Hankshaw, a white-trash goddess literally born to hitchhike, and the freest female of them all.
Freedom, its prizes and its prices, is a major theme of Tom Robbins's classic tale of eccentric adventure. As his robust characters attempt to turn the tables on fate, the reader is drawn along on a tragicomic joyride across the badlands of sexuality, wild rivers of language, and the frontiers of the mind.
About the Author
Tom Robbins was born in North Carolina in 1932 and raised in Virginia. A graduate of Virginia Commonwealth University, he moved to Seattle to do graduate work at the University of Washington. His internationally bestselling works include Still Life With Woodpecker, Fierce Invalids Home From Hot Climates, Jitterbug Perfume, Skinny Legs and All, Half Asleep in Frog Pajamas, Villa Incognito, and B Is For Beer. Robbins lives with his wife, Alexa D'Avalon, and their dog, Blini Tomato Titanium, in Washington State.
Praise For Even Cowgirls Get the Blues…
"This is  one of those special novels--a piece of working  magic, warm, funny, and san--that you just want to  ride off into the sunset with."–Thomas  Pynchon

"The best fiction, so far,  to come out of the American  counterculture."—Chicago Tribune Book World

"Even Cowgirls Get the Blues comes as a magical gift, a brilliant affirmation of private visions and private wishes and their power to transform life and death." —The Nation