The Sackett Companion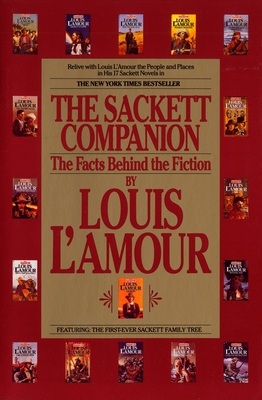 The Sackett Companion
The Facts Behind the Fiction
Bantam, Paperback, 9780553371024, 352pp.
Publication Date: November 1, 1992
* Individual store prices may vary.
Buy at Local Store
Enter your zip code below to purchase from an indie close to you.
or
Buy Here
Description
Little did Louis L'Amour realize back in 1960 when he published The Daybreakers, a novel about two brothers who came west after the Civil War, that he had begun creating what would become perhaps North America's most widely followed literary family: the Sacketts. The stories of ten generations of Sackett men and women as they forged westward from tyranny-wracked seventeenth-century England across the American continent have captivated readers for three decades through seventeen novels with nearly forty millions copies in print. The traditions and adventures of this family of rugged individualists who stand indomitably united when any Sackett is in trouble have inspired country songs, a popular television miniseries starring Tom Selleck (as Orrin Sackett) and Sam Elliot (as Tell Sackett), thousands of reader queries and now, a rare full-length work of non-fiction by the worlds' all-time best-selling frontier novelist.
In a 60 Minutes profile in which he hailed Louis L'Amour as "our professor emeritus of how the West was won," correspondent Morley Safer observed that "his plots may be fiction but the details therein are fact." The Sackett Companion is the author's long-savored opportunity to present the research and probe the factors behind his Sackett fiction novel by novel and to elaborate on their real and fictional characters, their geography and locales, and their historical eras in encyclopedia-like detail.
In this book, subtitled A Personal Guide To The Sackett Novels, L'Amour takes us on a guided tour of his imagination to introduce us to the never-before-told sources and inspirations for these stories and the people and places that populate them. He retraces some of his travels in which he has walked the land the Sacketts walk, reliving such personal memories as the street fight he had on a hot dusty morning in New Mexico that ultimately led to the birth of the Sacketts.
About the Author
Louis L Amour is undoubtedly the bestselling frontier novelist of all time. He is the only American-born author in history to receive both the Presidential Medal of Freedom, and the Congressional Gold Medal in honor of his life's work. He has published ninety novels; twenty-seven short-story collections; two works of nonfiction; a memoir, Education of a Wandering Man; and a volume of poetry, Smoke from This Altar. There are more than 300 million copies of his books in print worldwide."