The Gates of Twilight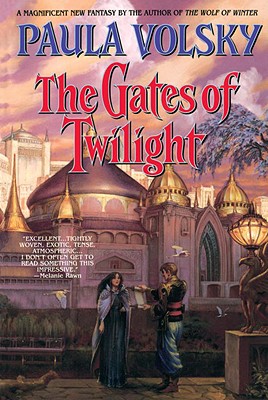 The Gates of Twilight
Spectra Books, Paperback, 9780553373943, 352pp.
Publication Date: February 1996
* Individual store prices may vary.
Shop Local
Enter your zip code below to find indies closest to you.
Description
In a fragile alliance, the natives are stirring uneasily under their foreign rulers. Rebellion is brewing, and at the heart of the conflict lies the bloody and powerful cult of the god Aoun, whose followers will stop at nothing to rid their land of alien domination. So civil servant Renille vo Chaumelle, scion of a proud, conquering line mingled with native blood, is conscripted as a spy and ordered to penetrate the fortress-temple known as the Fastness of the Gods. There he is to discover the secrets of the priests of Aoun and - if the chance presents itself - assassinate the lead priest, named in legend as the god's own son. But in the holiest depths of the temple, Renille finds there is more to the cult than his superiors suspect - far more than they will ever believe. What he learns leads him to the beautiful princess Jathondi, daughter of the native ruler, who is fated to be the crux of a violent confrontation between the fanatic followers of a flesh-hungry god and their arrogant overlords. Together, Jathondi and Renille must brave a whirlwind of revolution and apocalyptic magic that could shatter a nation, and open the long-sealed portal between heaven and earth.
About the Author
Volsky was raised in New Jersey. She majored in English at Vassar then traveled to Europe to complete an M.A. in Shakespearean studies at the University of Birmingham. Upon her return to the U.S., she sold real estate in New Jeresy, then began working for the U.S. Department of Housing and Urban Development in Washington, DC. She left HUD to pursue full time writing.