Feersum Endjinn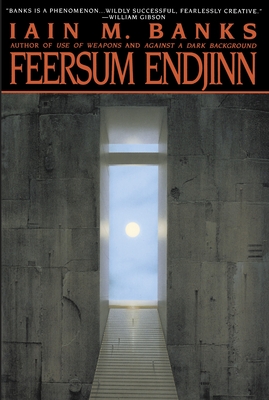 Feersum Endjinn
Bantam Books, Paperback, 9780553374599, 324pp.
Publication Date: June 1995
* Individual store prices may vary.
Buy Now
or
Shop Local
Enter your zip code below to purchase from an indie close to you.
Description
Count Alandre Sessine VII has already died seven times. He has only one life left - one last chance to catch his killer. His only clues point to a conspiracy beyond his own murder. For a catastrophe is fast approaching the earth from which there is no escape - until a loophole through apocalypse is discovered. And a chosen few will do anything to keep it a secret. Someone has betrayed Sessine, killed him before he could uncover the truth. Now he has three days before his funeral to live the way men used to live: restricted to one life where one mistake could be his last. Suddenly he finds himself an outlaw, a fugitive, a desperado. And his only hope of survival is finding others like himself. Others who hold a piece of the puzzle to an enigmatic weapon of salvation and chaos...

About the Author
Originaire de Fife, en Ecosse, et reconnu comme l un des meilleurs ecrivains de sa generation, Iain Banks a publie une trentaine de romans best-sellers, dont le celebre "cycle de La Culture" et "Transition", publie chez Calmann-Levy en 2012. Repute pour ses ouvrages de science-fiction, il est l auteur d une dizaine de romans litteraires, tous salues par la critique. Il est decede en 2013.