Contacting Aliens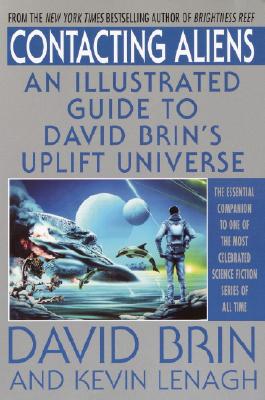 Contacting Aliens
An Illustrated Guide to David Brin's Uplift Universe
Bantam, Paperback, 9780553377965, 208pp.
Publication Date: June 25, 2002
* Individual store prices may vary.
Buy at Local Store
Enter your zip code below to purchase from an indie close to you.
or
Buy Here
Description
The award-winning Uplift novels comprise one of the greatest achievements in science fiction history. Dramatic, thought-provoking, and inventive, these books describe a fully realized world rich in character, detail, and ideas. Now Uplift author David Brin collaborates with acclaimed artist Kevin Lenagh to compile the definitive guide to the species, societies, and technology of one of the greatest feats of literary world-building ever accomplished.
CONTACTING ALIENS
Here in the form of a handbook for Terran field agents is a detailed look at Uplift's many alien races--from the friendly Tymbrimi to the warlike Tandu, from the wise and enigmatic Kanten to the fiercely reptilian Soro, from the bureaucratic Hoon to the manipulative Thennanin--their physiology, psychology, history; their clans and alliances; and their shifting attitudes toward Earth and its representatives.
Here, too, is a history of Earth's contact and challenging interactions with the mysterious and powerful Civilization of Five Galaxies, a look at its institutions, languages, and customs, plus a time line of momentous events going back 3 billion years. For the millions of fans of the Uplift novels, this long-awaited guide will be an essential reference work, filled with vital information and never-before-seen illustrations that reveal, for the first time in one volume, the keys to the ambitious vision and bold speculation of the Uplift universe.