The Brothers K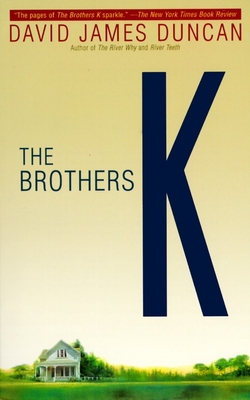 The Brothers K
Dial Press, Paperback, 9780553378498, 656pp.
Publication Date: June 1, 1996
* Individual store prices may vary.
Buy Now
or
Shop Local
Enter your zip code below to purchase from an indie close to you.
Description
A "NEW YORK TIMES" NOTABLE BOOK
Once in a great while a writer comes along who can truly capture the drama and passion of the life of a family. David James Duncan, author of the novel "The River Why" and the collection "River Teeth, "is just such a writer. And in "The Brothers K "he tells a story both striking and in its originality and poignant in its universality.
This touching, uplifting novel spans decades of loyalty, anger, regret, and love in the lives of the Chance family. A father whose dreams of glory on a baseball field are shattered by a mill accident. A mother who clings obsessively to religion as a ward against the darkest hour of her past. Four brothers who come of age during the seismic upheavals of the sixties and who each choose their own way to deal with what the world has become. By turns uproariously funny and deeply moving, and beautifully written throughout, "The Brothers K "is one of the finest chronicles of our lives in many years.
Praise for "The Brothers K"
""
The pages of "The Brothers K "sparkle. "The New York Times Book Review"
""
Duncan is a wonderfully engaging writer. "Los Angeles Times"
""
This ambitious book succeeds on almost every level and every page. "USA Today"
""
Duncan's prose is a blend of lyrical rhapsody, sassy hyperbole and all-American vernacular. "San Francisco Chronicle"
""
"The Brothers K "affords the . . . deep pleasures of novels that exhaustively create, and alter, complex worlds. . . . One always senses an enthusiastic and abundantly talented and versatile writer at work. "The Washington Post Book World"
""
Duncan . . . tells the larger story of an entire popular culture struggling to redefine itself something he does with the comic excitement and depth of feeling one expects from Tom Robbins. "Chicago Tribune.
About the Author
Recipient of a Lannan Literary Fellowship (2002). National Book Award Finalist for My Story as Told by Water, 2001. Best known for his two best-selling novels, The River Why and The Brothers K. Both received the Pacific Northwest Booksellers award, Brothers K was the NY TIMES NOTABLE BOOK in 1992 & won a Best Books Award from the American Library Association.
Praise For The Brothers K…
"The pages of The Brothers K sparkle."—The New York Times Book Review
 
"Duncan is a wonderfully engaging writer."—Los Angeles Times
 
"This ambitious book succeeds on almost every level and every page."—USA Today
 
"Duncan's prose is a blend of lyrical rhapsody, sassy hyperbole and all-American vernacular."—San Francisco Chronicle
 
"The Brothers K affords the . . . deep pleasures of novels that exhaustively create, and alter, complex worlds. . . . One always senses an enthusiastic and abundantly talented and versatile writer at work."—The Washington Post Book World
 
"Duncan . . . tells the larger story of an entire popular culture struggling to redefine itself—something he does with the comic excitement and depth of feeling one expects from Tom Robbins."—Chicago Tribune