Think Like a Genius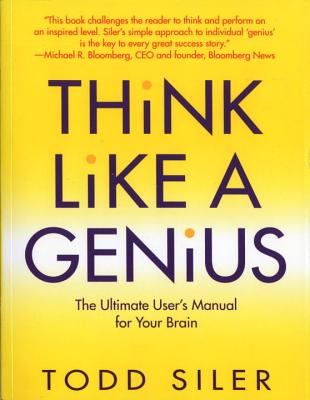 Think Like a Genius
Bantam, Paperback, 9780553379280, 304pp.
Publication Date: January 1999
* Individual store prices may vary.
Buy Now
or
Shop Local
Enter your zip code below to purchase from an indie close to you.
Description
Learn the easy steps to harnessing the incredible creative power of your mind that can enable anyone to Think Like A Genius.


How you already think like a genius without even knowing it--page 6
The secret formula for genius: C.R.E.A.T.E.--page 22
Ways to overcome the fear that inhibits the genius within you--page 58
How to transform the cynicism of I can't do it to the confidence of I can do anything--page 66
Breaking out of mental ruts and daily routines that block your road to genius--page 77
How to turn the obvious into a work of art, a new insight, or a multimillion-dollar creation--page 92
Getting unstuck from the quicksand of indecision and procrastination--page 106
The secret essence of every stroke of genius--page 165
And much more!
About the Author
Todd Siler received his Ph.D. in interdisciplinary studies in psychology and art from the Massachusetts Institute of Technology; his artworks are in the permanent collections of the Metropolitan Museum of Art, the Museum of Modern Art, the Guggenheim Museum, and the Whitney Museum, among others. His company, Psi-Phi Communications, develops multimedia learning materials for business and education, and he also gives lectures and seminars on creativity, art, and technology to organizations nationwide. Siler's first book was Breaking the Mind Barrier.
Praise For Think Like a Genius…
"This book challenges the reader to think and perform on an inspired level.  Siler's simple approach to individual genius' is the key to every great success story."
--Michael R. Bloomberg, CEO and founder, Bloomberg News

"Siler's approach is simple, practical, fun, and most importantly, highly productive."
--Peter M. Senge, author of The Fifth Discipline

"Think Like a Genius is an excellent and practical guide for anyone who wishes to become more original in their thinking and to use creativity more effectively."
--Daniel L.  Ritchie, Chancellor, University of Denver

"An ingenious and useful tool for enhancing everyone's creative thinking."
--Mihaly Csikszentmihalyi, author of Flow and Creativity