The Good Death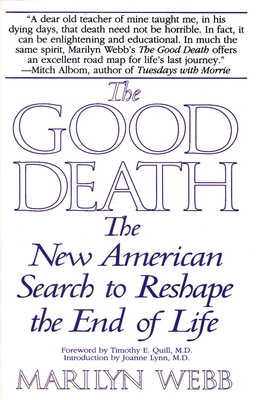 The Good Death
The New American Search to Reshape the End of Life
Bantam Books, Paperback, 9780553379877, 512pp.
Publication Date: February 1, 1999
* Individual store prices may vary.
Buy at Local Store
Enter your zip code below to purchase from an indie close to you.
or
Buy Here
Description
The Good Death is the first full-scale examination of one of today's most complex issues: the profound change in the way Americans think about and confront death. Drawing on more than six years of firsthand research and reporting, noted journalist Marilyn Webb builds her account around intimate portraits of the dying themselves. She explains why some deaths become shockingly difficult--and needlessly painful--and how the struggles over end-of-life decisions can pit patient and family against hospitals, doctors, insurance companies, religious groups, and the law.

But there is good news as well. Webb describes many extraordinary programs and individuals who are changing the face of dying. An abundant source of comfort and hope, The Good Death shows how the essential elements of humane--even uplifted--death are available to all of us, if we know what is possible, where to go for help, and how to prepare.
About the Author


Timothy E. Quill, M.D. is associate professor of medicine and psychiatry at the University of Rochester School of Medicine.

Joanne Lynn is Director of The Washington Home Center for Palliative Care Studies, Senior Scientist at the RAND Corporation, and President of Americans for Better Care of the Dying. She is the coauthor of "Improving Care for the End of Life: A Sourcebook for Health Care Managers and Clinicians "(2000) and "Handbook for Mortals: Guidance for People Facing Serious Illness "(1999), among other books. She has coedited several books, including "A Good Dying: Shaping Health Care for the Last Months of Life "(1998) and "By No Extraordinary Means: The Choice to Forgo Life-Sustaining Food and Water "(1986). She has also been a physician serving people living out the end of life in hospices, nursing homes, home care, and hospitals.
Praise For The Good Death…
"A dear old teacher of mine taught me, in his dying days, that death need not be horrible. In fact, it can be enlightening and educational. In much the same spirit, Marilyn Webb's The Good Death offers an excellent road map for life's last journey."
--Mitch Albom, author of Tuesdays with Morrie

"Transforming death to a subject discussed openly by the dying, their families and the medical community is the greatest value of this book.  The Good Death receives my strongest endorsement and should be read by physicians and laypersons alike."
--S. Jay Olshansky, Ph.D., The Journal of the American Medical Association

"Webb reminds us, through her firsthand observations, clearly and compellingly presented, that dying need not be a time of frantic terror, or terrible suffering."
--Robert Coles, The Washington Post

"An intelligent and compassionate look at one of our last taboos--and a hopeful message."
--Daniel Goleman, Ph.D., author of Emotional Intelligence

"A noteworthy contribution to the continuing public debate over an issue that touches everyone."
--Kirkus Reviews

"A sweeping overview of dying and end-of-life care in contemporary America. The poignancy of these stories and the clarity and force of Webb's investigation provide a foundation from which to explore what 'dying well' can mean."
--Ira R. Byock, M.D., author of Dying Well

"Webb deftly analyzes the major themes in the contemporary debate about how, where, and when we can, and should, die."
--Publishers Weekly