Total Memory Workout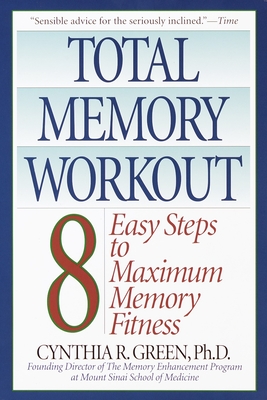 Total Memory Workout
8 Easy Steps to Maximum Memory Fitness
Bantam, Paperback, 9780553380262, 258pp.
Publication Date: January 30, 2001
* Individual store prices may vary.
Shop Local
Enter your zip code below to find indies closest to you.
Description
How to remember what you don't want to forget.

Frustrated by your forgetfulness? Don't be. Memory lapses aren't necessarily a sign of age -- more often they are a sign of the times, as we're all inundated with important information to remember, from PINs and cell phone numbers to children's schedules and crucial business facts.

Dr. Cynthia Green, founding director of The Memory Enhancement Program at Mount Sinai School of Medicine, shows you how to make the most of your memory, sharing her powerful yet practical eight-step program for improving your recall.

Do you sometimes enter a room and forget what you went there for?
-- page 29

Do you find yourself struggling to remember details from an important meeting?
-- page 110

Are you constantly misplacing your keys or glasses?
-- page 113

Do you find it impossible to remember directions, phone numbers, or computer passwords without writing them down?
- - page 136

Do the names of people you've just been introduced to slip your mind?
- - page 193
About the Author
Cynthia R. Green, Ph.D., is an assistant clinical professor of psychiatry and the founding director of the Memory Enhancement Program at the Mount Sinai School of Medicine. She is the president of Memory Arts, LLC, and the author of Total Memory Workout. Joan Beloff, ACC, ALA, is the director of Community Outreach and of the award-winning New Vitality program at Chilton Memorial Hospital.
Praise For Total Memory Workout…
"As a mother of three and a busy executive, I was on information overload until I put Dr. Green's memory-enhancing principles to work."
- - Eileen Opatut, Senior Vice President, The Food Network

"Solid advice on remembering that is both practical and based on science."
-- John W. Rowe, M.D., President and CEO of Mount Sinai and NYU Health and co-author of Successful Aging

"A terrific resource that covers all you need to know about how to improve your memory."
-- Leonard Stern, Chairman, The Hartz Group

"Sensible advice for the seriously inclined."
-- Time

"What distinguishes this book is Green's commonsense approach....Her workouts [are] entertaining as well as effective."
-- Natural Health

Visit Bantam's website at www.bantamdell.com.