Let's Elope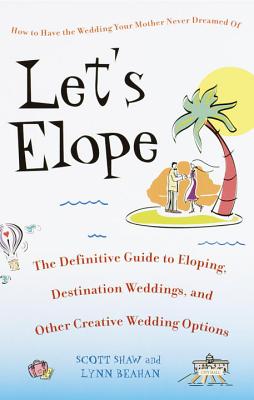 Let's Elope
The Definitive Guide to Eloping, Destination Weddings, and Other Creative Wedding Options
Bantam, Paperback, 9780553380828, 224pp.
Publication Date: January 2, 2001
* Individual store prices may vary.
Shop Local
Enter your zip code below to find indies closest to you.
Description
Can't cope? Elope!

Admit it. You always thought eloping sounded kind of romantic, right? Too bad everyone expects you to have The Big Wedding -- the kind you always thought you wanted. So now that you're engaged and knee-deep in wedding planning, why are you secretly wishing you could just fly off to a tropical island and say your I do's in your bathing suit?

Well, you can! There are many different ways to elope -- and not all of them involve running off in the middle of the night. These days, "eloping" is anything other than a traditional wedding -- from a steps-of-city-hall ceremony with just the two of you, to a fun-filled "destination wedding" with your family and closest friends.

Let's Elope is filled with creative ideas for exchanging your vows in a memorable, personalized way that won't necessarily cost you a fortune -- or your sanity. Let's Elope includes:
* A brief history of weddings -- and why people first began to elope
* A quiz to help you decide if eloping is right for you
* Inspiring anecdotes from real-life couples who chose to opt out of a traditional wedding
* Elopement etiquette, including how to break the news to your family and friends
* Information on how to plan destination weddings, country weekend weddings, and surprise weddings
* Up-to-the-minute addresses, phone numbers, and Web sites for the world's top elopement spots
* Tons of ideas about what to do with all the money you saved!
About the Author
Scott Shaw is an accomplished martial artist and practicing Buddhist. He is the author of several books including About Peace, Zen O'clock, and Tao of Self Defense. He lives in Redondo Beach, California.