Father, Son & Co.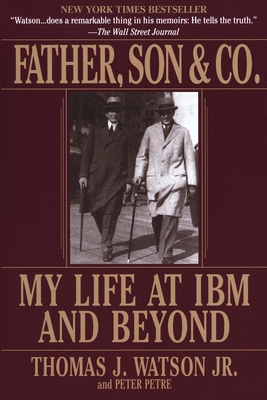 Father, Son & Co.
My Life at IBM and Beyond
Bantam, Paperback, 9780553380835, 512pp.
Publication Date: February 29, 2000
* Individual store prices may vary.
Buy at Local Store
Enter your zip code below to purchase from an indie close to you.
or
Buy Here
Description
In this eloquent first-person account of a family drama that changed the face of American business, the man who transformed IBM into the world's largest computer company reflects on his lifelong partnership with his father--and how their management style and shared dedication to excellence united to create a unique corporate culture that became the blueprint for the entire technology boom.

In the course of sixty years Thomas J. Watson Sr. and his son, Thomas J. Watson Jr., together built the international colossus that is IBM. This is their story: a riveting and revealing account of two men who loved each other--and fought each other--with a terrible fierceness.

But along with the story of a father and son, this is IBM's story too. It chronicles the management insights that shaped its course and its unique corporate culture, the style that made Thomas Watson Sr. one of America's most charismatic bosses, and the daring decisions by Thomas Watson Jr. that transformed IBM into the world's largest computing company. One of the greatest business-success stories of all time, Father, Son & Co. is a moving lesson for fathers who dream for their children, as well as a testament to American ingenuity and values, told in a disarmingly frank and eloquent voice.


Promising to remain an important business reference as we move into the next century, FATHER, SON & CO. takes a look at the management insight that helped to shape IBM's course and unique corporate culture.  It looks at Watson, Sr., one of America's most charismatic bosses, and Watson, Jr., who spurred IBM into the computer age.

Ten years after its original publication, FATHER, SON & CO. remains a uniquely honest book. Watson's willingness to write about the loving but ferociously combative relationship he had with his father and the turbulent battles behind some of IBM's most far-reaching decisions gives readers rare insights into the realities of leadership. -->
About the Author
Thomas Watson is a poet, writing since age ten, and a young Christian at the age of sixty-three. Retired from the Air Force and currently employed as a County Legal Clerk, Thomas enjoys his new found love for Christ in his writings and through the fellowship of his friends at Valley Baptist Church of San Rafael, California. He has been blessed with a step-daughter, two grand daughters, and three great grandchildren who, though distant in miles, are always close in his heart. He also has a sister who knew the secret of the mighty love of Christ as a child, and has shared it with those she has known through her compassion and beautiful heart. Professing that the words he writes belong to God, Thomas enjoys reading to the congregation an occasional poem, wishing to glorify Him. Tom currently lives in Novato, California, with his dog, Tippie.


Praise For Father, Son & Co.…
"Watson...does a remarkable thing in his memoirs: He tells the truth."
--The Wall Street Journal

"An exciting history of the rise of the American computer industry, written from a unique perspective. But this surprisingly candid book has another dimension. It's about love, about learning how to love."
--The Washington Post Book World

"A refreshingly candid memoir by one of the truly remarkable figures of our time."
--Walter Cronkite

"Highly recommended! An incredible and exciting life story that I couldn't put down."
--John Sculley, former chairman and chief executive officer, Apple Computer

"A frank and revealing picture of Big Blue...and a vivid inside look at the family that dominated its years of spectacular growth."
--The Boston Globe

"A most compelling human drama of the family that dominated the life and times of America's most famous computer colossus."
--The Economist


"A frank and revealing picture of Big Blue -- and a vivid inside look at the family that dominated its years of spectacular growth."                 --The Boston Globe

"A most compelling human drama of the family that dominated the life and times of America's most famous computer colossus."--The Economist -->