New Moon Astrology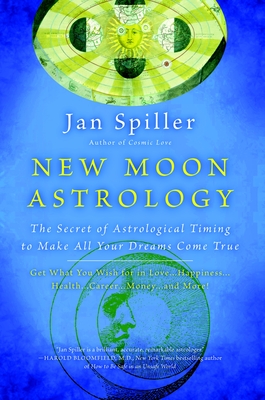 New Moon Astrology
The Secret of Astrological Timing to Make All Your Dreams Come True
Bantam, Paperback, 9780553380866, 336pp.
Publication Date: October 30, 2001
* Individual store prices may vary.
Buy at Local Store
Enter your zip code below to purchase from an indie close to you.
or
Buy Here
Description
A revolutionary approach to unlocking the transformative power of astrology
Get what you wish for in love ... happiness ... health ... career ... money ... and more
The Moon's influence on human destiny has been recognized since ancient times, but its potential for generating positive outcomes has often been ignored until now. In this breakthrough book, master astrologer Jan Spiller reveals the secrets of harnessing the Moon's astonishing power to make your goals a reality
Not just another astrology book, New Moon Astrology provides practical, step-by-step instructions, based on ancient rites and philosophy as well as on Jan Spiller's own vast astrological experience, in framing your wishes in any area love, career, family, or health.
On New Moon Power Days, your desires become incantations with amazing focus and strength. Using the special Moon chart included here, you ll be able to express your wishes during a magic moment a personal power period in the astrological cycle setting forces in motion that transform your desires into reality. With this exciting technique, you will see your wishes actually coming true in the months and years ahead
If you are ready to live your dreams, use this proven-effective approach to personal fulfillment.
Learn:
How to use the potent New Moon each month to time your power wishes
How to locate the three to five weeks each year when you personally are in a position of tremendous empowerment to achieve your goals
Which special Moons throughout the year help grant specific wishes, such as attracting money, meeting a new lover, or traveling to exciting places
How to use the destiny revealed by your astrological chart along with then New Moon to achieve an energy shift a power surge to help you succeed in weight loss, relationships, career advancement, sexual intimacy, and more
About the Author
Jan Spiller is a faculty member of the American Federation of Astrologers and the author of three bestselling astrology texts: "Spiritual Astrology", "New Moon Astrology", and "Astrology for the Soul", as well as a new book, "Cosmic Love". Well-known in the astrology world, Jan has has hosted her own local television and radio shows: "Ecliptic; The Good Life; "and the nationally syndicated, daily radio show: "Astrology Education Now." Currently, Jan writes a monthly column in Dell Horoscope Magazine (the largest astrological publication in the world), and runs her web site www.janspiller.com which logs about 270,000 hits a day. Jan recently completed the first season of "The Jan Spiller Show" - a live, call-in advice broadcast in which she responds to listeners' questions about astrology and reads their charts to empower them with objective knowledge to help them guide their lives.
Praise For New Moon Astrology…
"Jan Spiller is a brilliant, accurate, remarkable astrologer."
— Harold Bloomfield, M.D., New York Times bestselling author of How to Be Safe in an Unsafe World